Bitcoin traders are banking on a big rebound once Tax Day passes
Bitcoin prices were lower Monday ahead of the much-anticipated tax deadline, which bullish pundits say has been holding back the digital currency this year.
The cryptocurrency was trading near $8,025.55 as of 2:03 p.m. ET Monday following its best week since February, according to CoinDesk. It has dropped more than 40 percent since Jan. 1, after starting this year above $14,000.
"Tax-selling has been a significant factor in downward crypto prices over the past few weeks. I would expect this downward pressure to abate after tax day," said Spencer Bogart, partner at Blockchain Capital.
If you own bitcoin, here's how much you owe in taxes  
The Internal Revenue Service views bitcoin and other cryptocurrencies as property, meaning profits from transactions are subject to capital gains tax. Bitcoin rose more than 1,300 percent last year, and as a result, U.S. households will owe roughly $25 billion in taxes for digital currency holdings, according to Tom Lee, head of research at Fundstrat Global Advisors.
Lee, the only major Wall Street strategist to issue bitcoin price targets, said on Sunday that bitcoin may be hitting a similar bottom to where it was a month before it hit $20,000 in 2017.
View image on Twitter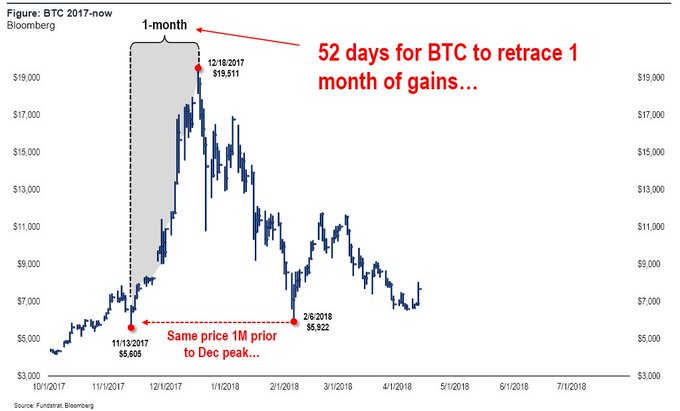 CRYPTO: Where was #BTC 1M prior to ~$20,000 top? $5,900. In other words, BTC this year rollbacked prices similar to what happened in 2014/15. Could be same bottom as the 2014/15 bottom. Also, selling related to capital gains taxes in US should be lifting as tax day is 4/17.

730

392 people are talking about this
Twitter Ads info and privacy
He has predicted that the cryptocurrency will hit $20,000 by the middle of the year and $25,000 by the end of 2018. Pantera Capital Founder and CEO Dan Morehead said in an investor letter published last week that bitcoin is "highly likely to have exceeded $20,000 within a year."
Venture capitalist Tim Draper predicted last week that bitcoin will reach $250,000 by 2022.
Last week, the digital currency surged to its highest price since March. The move followed a spike from a low of $6,786 to above $8,000, which many traders attributed to investors covering their shorts, or buying back into the market after betting against bitcoin.
Bitcoin's one-week performance
Source: CoinDesk
Other cryptocurrencies also recovered into Monday. Ethereum rose more than 26 percent over one week, while ripple rose roughly 30 percent to 65 cents, according to CoinDesk.
["Source-cnbc"]