Brush up on the price of paint if you plan to have a DIY Easter
Reckon there's little difference between the superstores? We checked them out – and found a surprising disparity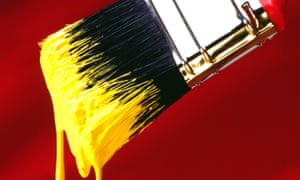 Next weekend is the busiest of the year for DIY-ers, with Easter Saturday frequently racking up the highest sales at Britain's hardware superstores. But a Guardian Money price check has found huge disparities between the prices of branded goods such as paints and brushes, with Homebase the most expensive in our snapshot survey.
White spirit is twice the price at Homebase and Sainsbury's compared with Tesco.
Dulux Pure Brilliant White is 50% more expensive in both B&Q and Homebase than in Wilkinson.
Crown matt emulsion colours are £10 in B&Q but as much as £16-£17 in Wilkinson and Homebase.
But discount store B&M and Wilko were cheapest for the paintbrush we put on test – a Harris three-inch – and a third cheaper than Amazon, and less than half the price of Tesco.
It is easy to assume superstores compete on price and there will be little difference between most branded goods. But it pays to check ahead on websites.
One area where we found few price differentials was in "posh" paints such as Farrow & Ball and Little Greene.
For example, Farrow & Ball's Breakfast Room Green, one of its most popular colours, is £39.50 on its website and just 1p cheaper at Homebase. It is not stocked at B&Q. However, we did find that Little Greene paint is £45 in John Lewis but can be bought for £38 on the company's website, with free delivery.
It's unlikely that many people buy paint online, but we checked Amazon nonetheless. It was not the cheapest, and many people will have to pay a delivery charge on top.
Profit margins on the small extras that DIY-ers casually throw into their baskets can be huge. A plastic 750ml bottle of white spirit to clean paintbrushes is £1.50 at Wilko but £2.21 in B&Q and £3 in Homebase.
We asked Homebase why its prices appear to be so much higher. It said: "We are absolutely committed to delivering great value to our customers. Homebase is only a few weeks into its new ownership and while we have already started to make a number of changes, there is still more to be done."
Homebase was recently acquired by Australian DIY group Bunnings and will be rebranded under that name.
DIY enthusiasts can save by buying own-brand paint rather than Dulux or Crown. For example, five litres of B&Q "Value" white paint is £6 – just over a third of the price it charges for the same amount of Dulux pure white.
But is own-brand a real saving or a false economy? Opinions in a discussion on the mumsnet website range from "It's perfectly fine if painting white on to a white wall" through to "it's rubbish" because they had to paint three coats to achieve the same as two with Dulux.
We also checked paint prices abroad to see if British consumers are being ripped off. The good news is that we couldn't find own-brand paint cheaper in either Walmart in the US or Mr Bricolage and Castorama in France.
And branded paints in France were close to double the price of that paid by British DIY-ers.

[Source:- Gurdian]