Chief executive at major ad agency sued for allegedly saying he'd rape employee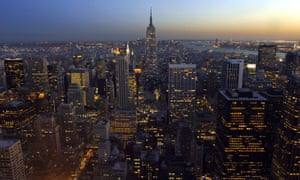 Gustavo Martinez, the chief executive of one of the world's leading ad agencies, allegedly called black people "monkeys", said he "hate[s] those fucking Jews" and told a female employee that he wanted to rape her in the bathroom, according to a lawsuit filed in New York.
The gender discrimination lawsuit, which was filed by Erin Johnson, a longtime employee at J Walter Thompson (JWT), was first reported by the New York Post. JWT is one of the oldest and biggest ad agencies in the world and represents companies including Macy's, Ford, Shell, Rolex and the US Marine Corps. Johnson works as the chief communications officer at JWT.
According to the complaint filed on Thursday, Johnson was hired in 2005 and worked for JWT for more than a decade. During that time, she had received multiple promotions, substantial pay increases and bonuses. Martinez joined JWT in 2014 as global president and in January 2015 became worldwide chairman and chief executive editor .
The complaint alleges that Martinez had, on multiple occasions, "grabbed Johnson by the throat or by the back of her neck while talking to her" and that he had told her: "Come here [Johnson], so I can rape you in the bathroom."
"He regularly demeans female executives, especially those women he believes are 'too American,' 'too sensitive' and 'too bossy'," the complaint went on. "Martinez has said multiple times that certain women should 'shut up'" and said that a female executive he disliked "needed to be 'hogtied' and 'raped into submission'".
Johnson's complaint states that since he had become chair and chief executive, Martinez "has subjected Johnson and other employees to an unending stream of racist and sexist comments as well as unwanted touching and other unlawful conduct".
The executive allegedly referred to personnel at airports as "black monkeys" and "apes" because they "don't know how to use computers". The suit also alleges Martinez said he disliked living in Westchester County in New York because of "those fucking Jews".
In a statement provided by WPP, Martinez said: "I am aware of the allegations made against me by a J Walter Thompson employee in a suit filed in New York Federal Court."
"I want to assure our clients and my colleagues that there is absolutely no truth to these outlandish allegations and I am confident that this will be proven in court."
According to the Wall Street Journal, the company sent a memo to its top executives on Thursday that said: "WPP's lawyers have been conducting an enquiry into previous correspondence on these matters since 25 February and have found nothing, as yet, to substantiate these charges."
WPP, JWT and Martinez are all named as defendants in the lawsuit.
Johnson is demanding unspecified punitive and compensatory damages.
In a statement sent after publication Martinez said:
"Further to my previous statement, where I confirmed that I am aware of the recent allegations made by a J Walter Thompson employee in a suit recently filed in the Federal District Court in Manhattan, I want to assure both our clients and my colleagues, that I believe I lead this company with a collaborative and collegial style and did not create the kind of working environment that has been described in the complaint. I welcome the opportunity for the truth to come out and to present more details about this matter at the appropriate time during legal proceedings."
[Source:- Gurdian]