China to introduce National English Proficiency Test by 2020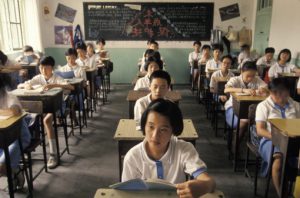 Speaking at the second International Symposium on Language Testing and Appraisal in Hangzhou, China, Vice Minister of Education Lin Huiqing said the system will unify the varying standards and targets of English language testing across the country into one that is "scientific, systematic and selective", and strengthen the consistency of training.
The system will be "scientific, systematic and selective"
At the moment, English language testing in China is highly fragmented, with a range of tests being used at different levels.
In 2014, China's State Council set out the goals for a national foreign language proficiency testing system in its official paper on the implementation of testing and admissions reform, which stated that the country needed to build a "standardised, consistent, functional and modern" system by 2020.
The bulk of the research and development of the scaling – a joint effort by more than 100 Chinese and international experts – has now been completed and is to be officially announced in 2017, Lin said.
With research on various stages of education across 28 provinces, the English proficiency scale has drawn from international precedents such as the Common European Framework of Reference for Languages, the first of its kind, according to the MoE.
As well as defining competencies in listening, speaking, reading and writing, the National English Proficiency Test also includes a "pragmatic competence" scale, which encourages students to develop practical language skills, cross-cultural awareness and communication skills.
The system exceeds the CEFR in scope and the standards of English curricula in other countries
Alister Cumming, chair of the TOEFL Committee of Examiners, said the system exceeds the CEFR in scope and the standards of English curricula in other countries.
Unifying the standards can "consolidate" what's expected of various stages of learning, and inspire specific courses and testing methods across different regions and ethnicities, according to Cumming. "It's quite impressive," he said.
Vivien Berry, senior researcher at the British Council, said the council looks forward to working with the Ministry to conduct research in this regard.
Delegates from other international universities, research institutes and organisations including the University of Cambridge Local Examinations Syndicate and Educational Testing Service also participated in the symposium.
[Source:- Pienews]