Converted nightclub wins Camra's pub of the year award
Sandford Park Alehouse in Cheltenham praised for its quality and range of ales, three years after major conversion project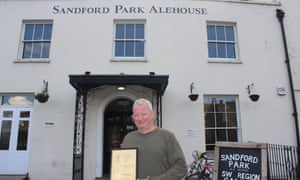 A pub housed in a former nightclub in Cheltenham has won the Campaign for Real Ale's 2015 pub of the year award – three years after opening for business.
Camra judges hailed the quality and choice of the real ales on offer at the Sandford Park Alehouse, while singling out the "smart and stylish" pub, housed in a Grade-II listed Georgian building, as a model for the 21st century which also espouses traditional values.
Owner and landlord Grant Cook put in an offer on the building in January 2012 while on holiday in Thailand. After a five-month refurbishment, which included installing a new roof and a Georgian-style stairwell, he pulled his first pint in November the same year.
What was once the sticky dancefloor in the basement has been converted into a state-of-the-art cellar allowing as many as 70 barrels of beer at a time to be stored and rotated in optimum, temperature-controlled conditions.
Cook, who had cut his teeth running pubs over 10 years in Leicester, had previously spent 15 years in the IT industry before deciding on a change of career. "I wanted a bit of fun. This is hard work but there is definitely fun, too. It is astonishing to think that we have been open for less than three years, but in that time we have offered our customers choice of more than 1,500 different draft beers."
From its £4,000 bespoke bar crafted from elm, the Alehouse boasts 10 hand-pull real ale pumps, one dedicated to real cider, and sells 100 different bottled (mainly Belgian) beers. It also holds an annual cheese and cider festival.
The three other finalists were The Drovers Rest in Carlisle, the Kelham Island Tavern in Sheffield and The Yard of Ale, a micropub in Broadstairs, Kent.
Cook said he believed that independence – not being tied to a brewery or a pub company – had been key to success. "I wanted the freehold and it had to be free of tie. If it's tied, someone else controls what you can stock and the price you can sell it for. Being free gives me access to a huge, diverse supply of quality beer to keep my customers happy."
Camra pub of the year organiser Paul Ainsworth said: "The Sandford Park impressed the judges on every level, but especially the quality and choice of its real ales, where the scores were among the highest ever recorded in the contest. Judges also appreciated the stylish and clean modern decor, the knowledgeable, welcoming staff and the lively atmosphere. Given the all-round excellence of the other three finalists, a win this year is a great achievement."