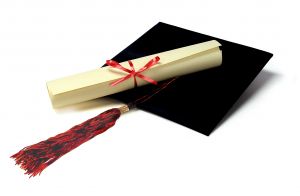 Don't stick with your student bak after uni – loyalty can cost! Banks love fresh grads and offer exclusive deals, such as 0% overdrafts for up to three years. You'll get uni perks all over again, but this time, it could be better.
If you've graduated in the past three years, see if you can ditch and switch your account to save £100s in fees, and get free perks on top.
The five BIG need-to-knows
Overdrawn? Get the biggest 0% deal possible

If you're already overdrawn from your existing student account, look for the biggest and longest-lasting interest-free overdraft. But these accounts aren't about borrowing more.

The aim is that by not paying interest, more of your money can go towards clearing your actual debts. To find the right deal, see 0% graduate overdrafts.

Graduate accounts aren't just for new graduates

Stick with your current student account and you may find your 0% overdraft quickly diminishing in the first year after university. Some graduate accounts offer preferential terms for up to three years after graduation.

Therefore, even if you graduated in 2014 or 2015, you may still be able to gain by switching to a graduate account now.

Use 0% interest to wean yourself OFF overdrafts

You'll have to pay off the overdraft at some point, usually after two or three years. Fail to do so and you'll be subject to astronomical charges and fees. The aim of the game is to gradually reduce the overdraft so that by the time you're being charged for it, you no longer have one.

For a £2,000 overdraft which reduces gradually over three years, repayments need to be at least £55 a month. In other words, at the end of each month, your total overdraft should be £55 less than the previous month. To help, use the Free Budget Planner andMoney Makeover guides.

Never go over your overdraft limit – BUDGET!

Budgeting isn't a rule just for students, it's a rule for life. The game changes if you go beyond your overdraft limit – charges shoot up and you can be caught in a vicious cycle that's tough to ever escape.

If you're struggling, talk to the bank at least. Try to agree an extension but remember, you are likely to be charged interest between 9.9% EAR and 19.9% EAR, which is huge. It's always far better to plan and budget to avoid this.

If not, or you go over without permission, the charges can be enormous – up to £15 per transaction (so a shopping trip in five shops spending £30 on your debit card could mean £75 of charges!). More info in Bank Charges Compared.

Likely to be in credit? Max out your interest

If you're one of the lucky ones who'll be in credit for your first few years of 'grown-up' banking, forget overdrafts – focus on accounts which pay top rates and more, including cashback, travel insurance, or a cash sum upon switching.

These tend to give useful perks, rather than standard graduate deals of an extended 0% overdraft. Therefore to get them you'll usually need a regular income of more than a set minimum. See the Top In-Credit accounts for the best.
Best buys
Top graduate 0% overdrafts 2016/17
To be a winner here, banks must offer the biggest 0% overdrafts for the longest period. This year, all limits are "up-to" amounts, meaning you're not guaranteed to get them. However, providing you've got no glaring issues on your credit file, the chances of getting the full amounts are decent.
[Source: Moneysavingexpert]