Kuroda's Former Ally Ito Sees Little Downside Now for Yen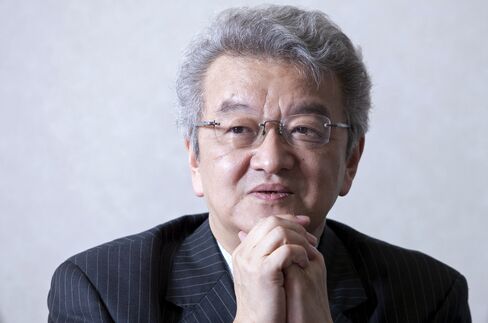 It's hard to imagine the yen declining much further from its current lows, said a former deputy to central bank chief Haruhiko Kuroda when he was in charge of Japan's currency policy.
The exchange rate is lower than it's been in more than 40 years when adjusted for inflation and trade with other nations, said Takatoshi Ito, who worked with Kuroda at Japan's Ministry of Finance in 1999 and 2000. Intervention to counter the yen's weakness is unlikely, barring any sudden, unwarranted moves, he said in an interview on June 5 in Tokyo.
"It'd be surprising if the Japanese government intervenes in currency markets now," said Ito, 64, who sold Kuroda on the idea of inflation targeting. "It's difficult to justify such action unless there are excessively sudden movements."
Ito said that if the yen fell to 130 from 125 in two or three days, in that case he "can't say intervention is unlikely."
It traded at 125.46 per dollar at 10:28 a.m. in Tokyo, near weakest level against the dollar since 2002.
The dollar has been buoyed by signs that interest rates in the U.S. could rise this year while unprecedented monetary easing continues by the Bank of Japan.
The last time Japan intervened to curb declines in the yen was in 1998 during a banking crisis. It acted with other Group of Seven nations in 2011 to weaken the yen, which had soared after an earthquake in Japan.
Ito, who took up a position at Columbia University this year, was a member of Japan's top economic policy panel from 2006 to 2008. More recently, he championed stronger governance at the Japanese government's pension fund, the world's largest.
Strength Corrected
Ito joins others who see limited downside for the yen, which has lost 13 percent against the dollar since the BOJ expanded its record asset purchase plan in October.
Excessive strength in the yen that hurt manufacturing in recent years has now been corrected, Yutaka Harada, an ally of Kuroda who joined the BOJ's policy board in March, said in an interview last week. Finance Minister Taro Aso on May 29 called the yen's moves "rough" after the dollar rose about five yen in less than two weeks.
Ito suggested that the government should raise the sales tax to 15 percent in 2019, after a planned increase to 10 percent in 2017. He said domestic savings will no longer be able to absorb the nation's expanding public debt in early 2020s.
The government's aim of securing a surplus in the primary balance in the fiscal year starting from April 2020 is very unlikely to be met through spending cuts, according to Ito.
["source – bloomberg.com"]