National Grid sells majority stake in gas division in £13.8bn deal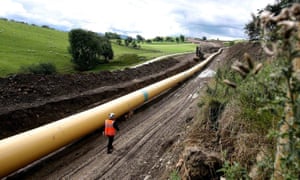 National Grid has agreed to sell a majority stake in its gas pipe network to a group of investors including Chinese and Qatari sovereign wealth funds in a deal valuing the business at about £13.8bn.
The UK's power network operator said it would sell a 61% shareholding in the gas division to a consortium led by Macquarie, an Australian investment bank. The deal is also backed by China Investment Corporation (CIC) and Qatar Investment Authority, along with fund managers including Hermes and Allianz.
The sale could test the government's approach to foreign investment in UK infrastructure after a review of the rules was announced in September. The review, which is not completed, followed the government's decision to approve the building of the Hinkley Point nuclear power station with Chinese backing.
National Grid will return £4bn to shareholders after the deal and hand out a £150m payment to benefit British energy consumers. It will also work with Ofgem, the industry regulator, to decide how best to use the £150m payout to benefit energy customers.
National Grid will receive £3.6bn cash for the stake in its gas arm, as well as a further £1.8bn in debt financing. It will keep a 31% stake in the business. Macquarie and China Investment Corporation will hold the two largest stakes, at 14.5% and 10.5% respectively, followed by Allianz with a 10.2% stake. The Qataris will hold an 8.5% stake.
The sale process has been closely watched given the foreign interest in the national gas pipe network. The industry regulator Ofgem warned in September that it would not support buyers if they chose to overpay for the hotly contested assets. Investors are keen to take stakes in infrastructure because the assets pay reliable returns amid volatile financial markets.
Foreign ownership of UK infrastructure has been under scrutiny since Theresa May ordered a review of the Hinkley Point deal because of security concerns over Chinese funding of a third of the £18bn cost. In what was seen as a climbdown by the new government, Hinkley Point was approved but May promised investment in critical infrastructure would be "scrutinised for the purposes of national security".
John Pettigrew, chief executive of National Grid, told Reuters: "CIC already have holdings in Heathrow airport and Thames Water. They're well known in the UK infrastructure market today. There are absolutely no concerns."
However, trade unions have questioned the involvement of Macquarie, which specialises in infrastructure deals. The Australian bank has been criticised for its ownership of Thames Water, Britain's biggest water company, which it bought in 2006 and is now selling.
Dave Prentis, general secretary of Unison, the public services union, said: "The experience of Thames Water customers when Macquarie was running the show should have been a red flag to ministers and regulators as how unsuitable this company is to be in charge of the UK's gas supply.
"Macquarie has poor form already – in building up huge company debt, repatriating massive dividends to the southern hemisphere and charging customers more for a much poorer service."
Unison said the gas distribution business is a regulated private monopoly with fixed returns, meaning the company running it is guaranteed to make money.
The sale, which is set to complete before the end of March next year, is part of a move to shift National Grid's business towards higher growth areas to increase shareholder returns at the FTSE 100 company.
National Grid has 82,000 miles (132,000km) of pipeline, which delivers gas to approximately 11m households and businesses. The gas arm employs nearly 5,700 staff.
[Source:- Gurdian]