OECD calls for less austerity and more public investment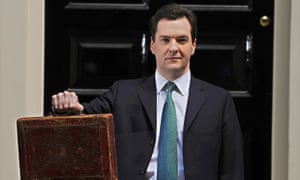 The OECD has called for its rich-country members to ease up on austerity and collectively agree to spend more on infrastructure projects to boost flagging growth.
The Paris-based Organisation for Economic Cooperation and Development expressed concern about the state of the global economy as it cut growth forecasts made three months ago and warned that low interest rates and money creation by central banks were no longer enough for a lasting recovery.
Marking the latest stage in its shift away from support for austerity, the OECD criticised the over-reliance on monetary policy – low interest rates and the money-creation process known as quantitative easing – and urged that countries adopt a more balanced approach.
The OECD has in the past supported the deficit-reduction programme taken by the UK chancellor, George Osborne, but believes Britain should now join with other countries in spending more on public investment.
"A stronger collective policy response is needed to strengthen demand," the OECD said in its interim economic outlook, which reduced growth estimates for every member of the G7 group of leading industrial nations – the US, the UK, Germany, Japan, Italy, France and Canada.
"Monetary policy cannot work alone. Fiscal policy is now contractionary in many major economies. Structural reform momentum has slowed."
The OECD reduced its 2016 global growth forecast by 0.3 points to 3%, leaving it unchanged on 2015 – the weakest year for global activity in half a decade. It also shaved 0.3 points off its 2017 forecast, reducing it to 3.3%.
It added that the performance of the global economy was worse than its long-term average and weaker than would be expected during a recovery in the developed world and amid potential for a period of catch-up in emerging economies.
"The downgrade in forecasts is widespread, reflecting a broad range of disappointing incoming data for the fourth quarter of 2015 and the recent weakness and volatility in global financial markets."
Fiscal policy involves measures that affect tax and public spending, and the OECD said a more expansionary approach was needed to create a more favourable climate for structural reforms that would lead to higher productivity. It advocated that all countries should borrow at ultra-low interest rates for infrastructure projects, and that this would lead to stronger growth and lower debt levels. The call reflects the OECD's concern that investment has failed to pick up during the recovery.
"Many countries have room for fiscal expansion to strengthen demand. This should focus on policies with strong short-run benefits and that also contribute to long-term growth.
"A commitment to raising public investment collectively would boost demand while remaining on a fiscally sustainable path."
It added that investment spending had a high multiplier effect, with strong knock-on effects from investment projects on overall growth rates. Quality infrastructure would support future growth and make up for "the shortfall in investment following the cuts imposed across advanced countries in recent years".
The outlook report added: "The benefits of structural reforms would be enhanced by a more supportive demand environment, which increases the benefits to firms and workers of the new opportunities created and helps to support the necessary reallocation of resources."
The OECD said it now expected the UK to grow by 2.1% in 2016 and 2% in 2017 – in both years a reduction of 0.3 points on its November 2015 forecasts. Its estimates for the US have been shaved by 0.5 points to 2% in 2016 and by 0.2 points to 2.2% in 2017.
It added that the slow recovery in the eurozone was an important factor dragging on the global recovery and left Europe vulnerable to global shocks. The OECD cut 0.4 points off eurozone growth in 2016 and 0.2 points off eurozone growth in 2017, reducing its GDP estimates to 1.4% and 1.7% respectively. China's growth has been left unchanged at 6.5% in 2016 and 6.2% in 2017.
[source:- Theguardian]