For sale: Co-op Bank looks for buyers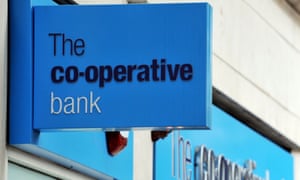 The Co-operative Bank has put itself up for sale – four years after it nearly collapsed and had to be bailed out by US hedge funds.
Amid persistent speculation over its long-term future, the bank said its board had decided to look for buyers, and also at other ways of bolstering its financial position.
Dennis Holt, the bank's chairman, said the bank continued to meet its capital requirements set out by the Bank of England's Prudential Regulation Authority.
"At the same time, since we began work on the Bank's turnaround, the board has always been clear that we would need to build capital for the future. We are now commencing a sale process, alongside other options. The Bank's ethical heritage and customer proposition will be a central consideration in this," said Holt.
When problems at the Co-op bank started to emerge in 2013 it was discovered that the bank – then majority owned by the Co-operative Group of supermarkets and funeral homes – needed £1.5bn. Paul Flowers, its former chairman, was later fined for possessing cocaine, crystal meth and ketamine and was dismissed as a minister by the Methodist church earlier this year.
The troubles at the bank, which has 4 million customers, left a cloud over the co-operative sector. The Co-op Group now owns just 20% of the bank, with the rest owned by bondholders, largely the hedge funds that participated in the 2014 rescue.
Liam Coleman, the chief executive, said the attempts to turnaround the bank had been slowed down by the impact of low interest rates and the "sheer scale" of the transformation, in part required after the bank's merger with the Britannia Building Society just as the financial crisis was getting under way.
The PRA said it welcomed the actions announced by the Co-operative Bank. It added: "We will continue to assess the bank's progress in building greater financial resilience over the coming months."
[Source:- Gurdian]