SBI Slammed Again! This Time For An Advertisement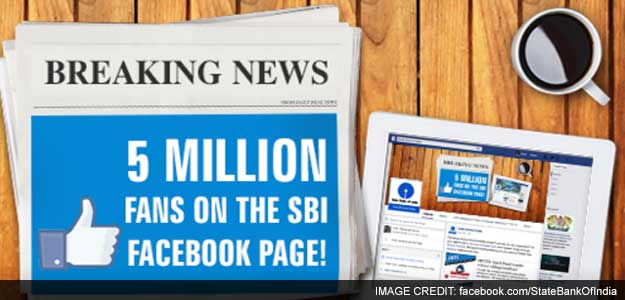 State Bank of India, which came in for criticism last week for being late in taking action against Kingfisher Airlines, was slammed on micro-blogging site Twitter today for putting out full-page newspaper advertisements announcing the milestone of 5 million Facebook "likes".
The advertisement comes at a time when state-run banks are under severe strain on account of rising bad loans. Non-performing assets, or bad loans, of public sector banks have increased by nearly Rs. 1 lakh crore to Rs. 3.6 lakh crore in the first nine months of the current fiscal.
"Many ironies in India's ailing govt-run banks paying for full-page newspaper ads to tout record @Facebook followers," tweeted Raju Narisetti, senior vice president (strategy) at NewsCorp.
SBI and other public sector banks are under the scanner for not doing enough to get their dues from now-defunct Kingfisher Airlines, even as its promoter Vijay Mallya, a personal guarantor to the carrier's Rs. 7,000-crore loan, flew out of the country earlier this month.
Mr Mallya's departure from India had last week sparked uproar in Parliament, with the opposition accusing the government of "criminal conspiracy". Kingfisher Airlines owes Rs. 1,600 crore to SBI.
SBI's financial performance has been way off the mark recently, so it was surprising that the lender choose to trumpet its Facebook "likes". India's biggest lender reported a 62 per cent drop in Q3 profit on account of rising bad loans.
SBI was also criticised by digital marketing strategists for mixing up "likes" with "followers" in its advertisement. The lender claimed that it has 5 million "followers" on Facebook, the most for any bank worldwide.  On a serious note, analysts questioned whether Facebook "likes" or Twitter "followers" are a measure of a company's health or success. SBI's smaller peers in the private sector, with fewer Facebook "likes", reported higher profits in the previous quarter.
[Source:- Profit.ndtv]