Schools TV on its way – archive, 1955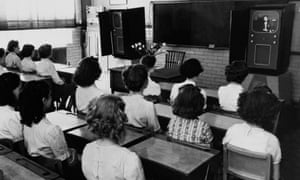 The B.B.C intends to start television broadcasts for schools on an experimental basis in the autumn of 1957. For the first two years of the scheme pupils at secondary modern and grammar schools will be able to watch two, possibly three, programmes a week, mostly devoted to current affairs and science. Eventually it is hoped to extend the service to primary schools and to put on at least one half-hour programme five days a week.
This was announced last night at a press conference held to introduce the newly-appointed Head of Television School Broadcasting, Miss Enid Love. She has wide experience of both broadcasting and education, having joined the B.B.C six years ago after being headmistress of a girls' school. In 1951 she became assistant head of school broadcasting, and for four months last year studied educational television in the United States and Canada.
In America she found that schools programmes were "run on a shoestring," and last night she was certain that the B.B.C. was going to be very generous to her new department. "It won't be a cut-price job, whatever happens," she said.

Time for Training
Four full-time producers are shortly to be appointed, and a special film unit, and for the next two years they and Miss Love will "learn the art of television" at Lime Grove and prepare their plans. "This long period of training is essential," said Miss Love, "if we are to turn people of imagination and educational experience – but with perhaps little knowledge of broadcasting – into first-rate producers."
She explained that her department did not want to "play safe" but to experiment bravely and freely, even if this meant a few "glorious failures." Adapting teaching imaginatively to the television screen was not something that could be learnt in a hurry, and all kinds of experiments would be made during the department's trial broadcasts. "No television or broadcasting producer has such a critical and clearly defined audience as those in schools broadcasting, so our products will have to be good."
An official of the School Broadcasting Council was also at the conference. He was asked why the B.B.C. had taken so long to announce its plans, especially since it had done a series of television broadcasts to a few selected schools on closed circuit as long ago as 1952. Had the announcement anything to do with the appearance of commercial television?

Not Due to Competition
The official replied that the B.B.C had always said it wanted to start television for schools "as soon as practicable," but the "economic climate had been unsuitable." It was even thought at one time that the programmes would have to wait until the B.B.C. was given a second television channel. Now, however, the economic situation had changed and there was also more studio space available. He did not think that the birth of commercial television had anything to do with the decision.
He said that his council had written to local education authorities telling them that the Minister of Education welcomed the experimental service, the purpose of which was to make "a fair and thorough trial of its educational possibilities and value." Before asking the B.B.C. to provide this service the council had made sure that the education authorities were ready to equip enough schools with television sets. "Two years ago 250 schools told us they were prepared to buy sets," he said, "and these will provide an adequate basis for observing the effects of the programmes."
source:-.theguardian