Steven Mnuchin nominated for US treasury secretary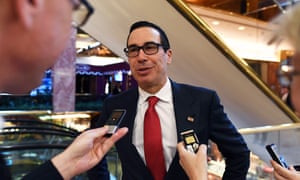 Trump defended Mnuchin's track record in distressed debt. "He purchased IndyMac Bank for $1.6bn and ran it very professionally, selling it for $3.4bn plus a return of capital," Trump said. "That's the kind of people I want in my administration representing our country."
Mnuchin and his family also pocketed about $3.2m in profit from money invested with the convicted conman Bernie Madoff. The money was not returned to Madoff's many destitute victims because the Mnuchin family had withdrawn the funds before Madoff was exposed as running a Ponzi scheme.
Mnuchin's first job was at Goldman Sachs, where his father, Robert Mnuchin, had worked before changing careers to become an art dealer. The younger Mnuchin worked at Goldman for 17 years, rising to become a partner before leaving to launch film financing company Dune Capital Management, which has invested in several of Rupert Murdoch's 21st Century Fox blockbusters, including Avatar. Dune Capital is named after beach dunes near his mansion in the Hamptons.
Speaking on Tuesday night, Robert Mnuchin, the founder of the Mnuchin Galleryon the Upper East Side, told the Wall Street Journal: "He's a person of great integrity. [We] expect he will do a good job in this very exciting and demanding position." The elder Mnuchin's collection includes works by Mark Rothko, Willem de Kooning and Jackson Pollock.
Mnuchin, who has three children from a previous marriage, is engaged to the Scottish actor-producer Louise Linton, who has appeared in CSI: NY and Cold Case. Earlier this year, Linton, 34, was accused of having a "white saviour complex" in a memoir about her gap year as an aid worker in Zambia.
Mnuchin was educated at the $50,000-a-year Riverdale Country school in New York, and Yale University, where his roommate was Edward Lampert, who went on to become the chief executive of the company that owns Sears.
Trump also nominated Wilbur Ross as commerce secretary. The billionaire distressed-asset investor is a vocal Trump supporter, and has called for a "more radical, new approach to government" and an end to free trade deals.
"There's trade, there's sensible trade and there's dumb trade. We've been doing a lot of dumb trade," he has said. "The trouble with regional trade agreements is you get picked apart by the first country, then you negotiate with the second country and get picked apart, and then go with the third one and get picked apart again."
Trump said Ross's role would be "reducing burdensome government regulations and unleashing America's energy resources will strengthen our economy at a time when our country needs to see significant growth".
Ross, 79, is chairman and chief strategist of private-equity firm WL Ross & Co, a company known for deals that included combining bankrupt steel producers. Ross has also plunged into holdings of textiles and coal, at one time controlling 1.2bn tons of US coal reserves.
Trump also selected Todd Ricketts, a billionaire and co-owner of the Chicago Cubs, for deputy secretary of commerce. All the positions are subject to review and approval by the US Senate.
[Source:- Gurdian]