Tata to decide fate of UK steelworks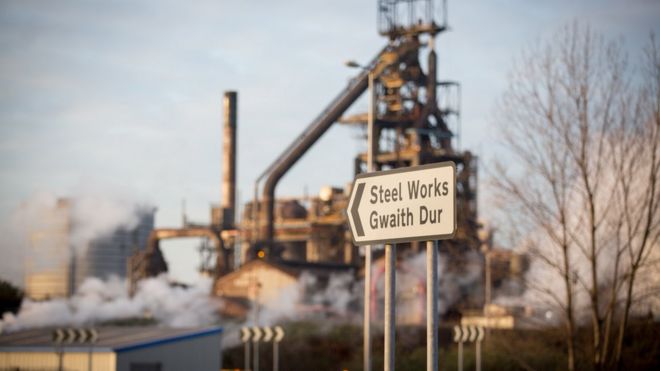 Steel giant Tata is holding a board meeting in India which could decide the fate of thousands of UK workers.
In January, Tata said it planned to cut more than a thousand jobs at its UK plants – with 750 due to be lost at Port Talbot in south Wales.
Unless the board meeting in Mumbai agrees to this turnaround plan, the future of the plant could be in doubt.
Media captionThe Port Talbot works and its future are discussed by three generations of the same family who worked there
These factors include relatively high energy prices, the extra cost of climate change policies, and competition from China.
There have been allegations that Chinese steel is being "dumped" on world markets at unrealistically low prices, prices that UK plants cannot compete with.
At the same time China's economy has remained sluggish, meaning that the demand for steel from that nation's construction sector is not as strong as it once was.
'All options'
Meanwhile, Business Minister Anna Soubry told BBC Radio 4's Today programme that the government was prepared to consider "all options" to ensure that steel production continued at Port Talbot.
"We are looking at all manner of options that may or may not be available to us as a government, all options," she said. "It starts from a base of making sure that we continue to make steel in Port Talbot."
Last week, Prime Minister David Cameron said the UK government wanted "to be very supportive and very helpful" to the UK steel industry.
There are strict EU rules that restrict how much support governments can give to particular industries.
Reputation
Before the Tata board meeting, Welsh steel representatives held talks in India with company board members.
Roy Rickhuss, general secretary of the union Community, along with Stephen Kinnock, MP for Aberavon, and Frits van Wieringen, chairman of the Tata Steel European works council, met senior representatives from the firm.
According to BBC India business reporter Yogita Limaye, Tata "will be wary of the impact on its reputation" if it is forced to close the Port Talbot plant, as it is seen in India as a firm that cares for its employees.
The final decision on whether to approve the turnaround plan will be made by the 11-member Tata Steel board, led by chairman Cyrus Mistry.
[Source:- BBC]