What's Better than a Paycheck? Direct Deposit. Here's why.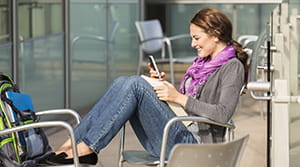 Direct deposit is a way for wages to be electronically transferred from an employer's account into an individual's checking or savings account. Ideal for paychecks, it's also commonly used for government payments such as Social Security and Medicare. The secure payment method provides employers and employees convenience and several other advantages over traditional paper checks. Here's a quick look at some of the benefits.

Direct deposit lets employers:
Spend less time on payroll-related tasks, including preparing checks, putting them in envelopes and mailing or distributing them.
Save money on checks, envelopes, printing and postage.
Gain more control over funds and pay employees on time, thanks to advancements in electronic payment technology like same-day ACH.
Improve security. You'll avoid the risk of lost or stolen checks, a common source of identity theft and fraud, protecting company account information and employees' personal information.
Be more environmentally responsible by going paperless.
Direct deposit gives employees:
Immediate access to funds. You can relax and let your payments roll in.
Freedom from waiting for the mail or hand-delivery and depositing checks yourself.
Added security. Funds are securely deposited in your account electronically, eliminating the risk of checks being lost or stolen in transit.
Easy access to pay statements online, 24/7.
Control over deposits. You can direct funds into your bank account of choice.
At Banner Bank, we encourage clients to use direct deposit for security and convenience. If you own a business and are interested in offering direct deposit to your employees, talk to your banker about payroll solutions. If you're an employee, ask your employer if they offer direct deposit. We can help you set it up. In most cases, you'll be asked to provide the bank's routing number—Banner's is 323371076—and the account number where you'd like funds deposited.
In some cases, your employer may also ask for a voided check. If you don't have checks handy, visit a branch near you for help with a voided check. If you are setting up or moving your Social Security direct deposit, learn more here.
["source=bannerbank"]