Women are Good for the Economy. So Why Are They Still Being Held Back?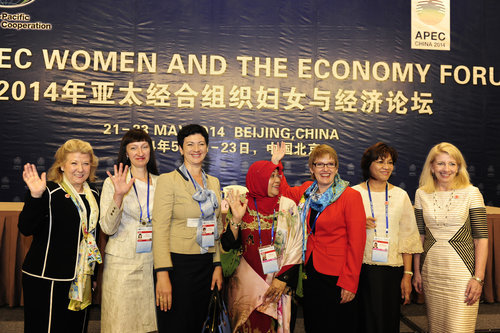 Attendees pose for a group photo at the 2014 Women and the Economy Forum in Beijing. [Women of China/Fan Wenjun]
Recently Jack Ma called women executives "the secret sauce" of his company Alibaba, the Chinese e-commerce giant.
His sentiment is one that research proves over and over again. Women are powerful participants in the economy, whether they are consumers, workers, or entrepreneurs. The more we empower them, the more we boost communities, economies, and countries.
Yet the current landscape for women who want to participate in the economy is not exactly empowering. In far too many countries, laws single out women with special rules that make it harder for them to get a loan or take home the same paycheck as a man doing the same job. Stereotypes tell women to stay at home or to pursue only certain kinds of jobs. Bias–conscious or not–locks women out of critical networks and business opportunities.
Because of these barriers, a woman may not be able to access the financing or capital she needs to start her own business. She may not have access to the people who can help her take her business to the next level. Or she may end up dropping out of the workforce all together.
This is the economic reality for women today, and this is what we will address at theU.S.-China Women's Leadership Exchange and Dialogue, also known as WE-LEAD, on June 23.
With experts from both China and the United States, WE-LEAD will take a close look at the problems and potential solutions surrounding women's economic empowerment in the United States, China, and other countries around the world. Here's a look at just some of the event's highlights:
White House Council on Women and Girls Executive Director Tina Tchen will lead a conversation with business leaders, including Johnson & Johnson's Maggie Fitzpatrick, about how to make workplaces better for both businesses and their employees.
Sun Media Group's Yang Lan, one of China's many dynamic women entrepreneurs, will moderate a discussion on how financial institutions and economies can help women improve their access to capital. She'll talk with Goldman Sachs 10,000 Women's Noa Meyer, IFC's Peter Cashion, and others about innovative models and partnerships that are opening doors for women entrepreneurs.
Given the importance that both governments place on women's full economic participation, senior officials from the United States and China will talk about how governments empower women in the economy.
Complex challenges require collaborative solutions, and empowering women is no exception. That's why WE-LEAD brings together people from many different sectors: business, philanthropy, media, and government. Our efforts will be stronger and more successful if they include many instead of few. They will also be stronger if they are sustained, which is why this is one of many ways we're working to promote women's economic empowerment in countries around the world.
With that in mind, I hope you'll join us in exchanging ideas and stories about promoting women's entrepreneurship. Follow #CPE2015 on June 23 and keep an eye out on the WE-LEAD page for news and updates following the event.
["source – huffingtonpost.com"]