Brazil's economy falters, but worse may be to come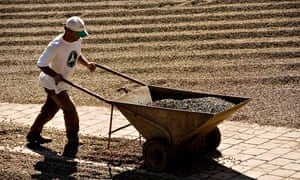 The signs that Brazil's economy is in trouble have been visible for a while now, but the worst could be still to come. The figures published last month for gross domestic product in the first quarter of 2015 confirmed the absence of growth that has plagued Latin America's powerhouse for the past five years.
With GDP down by 0.2% since the new year – a fall of 1.6% compared with the same period of 2014 – Brazil has registered its worst result in six years. Even if it has actually fared better than the 0.5% drop forecast by the markets, the outlook for the world's seventh-largest economy nevertheless looks gloomy. The figures are bad enough to reduce the already limited room for manoeuvre available to the newly appointed and ever so orthodox finance minister, Joaquim Levy. Last month he announced far-reaching austerity measures, with cuts amounting to 69.7bn reals ($22.4bn), prompting an outcry from members of his own party, who want a more flexible line.
The Minister of Finance of Brazil, Joaquim Levy Facebook Twitter Pinterest
Brazil's finance minister, Joaquim Levy, has announced austerity measures amounting to 69.7bn reals ($22.4bn). Photograph: Pacific Press/Alamy
The government led by President Dilma Rousseff is expecting a 1.2% fall in GDP, higher than the 1% forecast by the International Monetary Fund. If the first forecast is right, it would be Brazil's worst performance in the past 25 years. "Everyone was hoping that the economy would bottom out in the first quarter," says economist Paulo Gala, "but confidence is still deteriorating, [and] the volume of road transport is plummeting, as are car sales. The recession seems to be deepening."
The figures for household spending, which fell by 1.5% in the first quarter, were the most disappointing since 2008 and largely responsible for the overall decline. Falling demand for energy in industry and lower water consumption also played a part. Service sector earnings were down 0.7% on 2014, and government investment and spending dropped 1.3%.
With the exception of exports, which rose by 5.7%, and farming, up 4.7%, Brazil has reported a long list of negative macro-economic data. Inflation for the past 12 months is high, at 8.17%, with an 8.26% increase forecast for 2015. The official target is 4.5%. Meanwhile, investment has steadily shrunk over the past two years; production of motor vehicles has dropped by a stunning 20% since January. Although unemployment is still remarkably low, it is rising, with 100,000 jobs lost in April alone.
Despite this economic gloom, Levy has managed, with staunch support from the president, to push through measures to balance the budget, before stimulating fresh growth. Shortly after his appointment on 1 January, he undertook to achieve a 1.2% primary budget surplus in 2015, raising it to 2% the following year. Drastic cuts to many budgets followed, including welfare programmes, an unprecedented move since the Workers' party (PT) came to power in 2003, led by Luiz Inácio Lula da Silva.
In its plan for budget adjustment, announced on 22 May, the government has trimmed some of the benefits to which retired public servants and their dependents were entitled. And, after a tussle with Congress, it has tightened up the rules on unemployment benefit, shelved subsidies for electricity utilities and raised various taxes. To curb spending it has also frozen some public-sector investment. Finally, 25.7bn reals ($8.2bn) was sliced off the growth acceleration package, which includes funding for major infrastructure projects – previously touted as a flagship programme.
At a press conference in Rio de Janeiro last month, Levy nevertheless seemed upbeat, insisting that "much has changed" since the new government took office in January. He said the second quarter would be a "transition", there already being many "different" signs that could bear fruit before the end of the year. He added that the fall in GDP reflected the "uncertainty" in early 2015, a reference no doubt to the tensions and contradictions that have plagued the governing majority for months.
Part of a fragile government, dependent on a hostile congress, and with a private sector still reluctant to invest, Levy criticised the PT's misgivings and failure to support his initiatives unconditionally. He even complained about growing pressure from close allies of former president Lula to make the fiscal agenda more flexible.
Senator Lindbergh Farias was one of the PT stalwarts who voted against Levy's plans to rein in unemployment benefits. Farias, known to be close to Lula, told the business daily Valor that "the government is playing with fire" and should change its strategy, which was driving the country into recession. "Part of what we have achieved in the past 12 years [in power] is under threat," he said. "I'd like to believe in this policy, but I can't." It remains to be seen what will happen after the second-quarter transition.
["source-theguardian.com"]