Brexit leaves London-based banks facing 'nightmarish' choices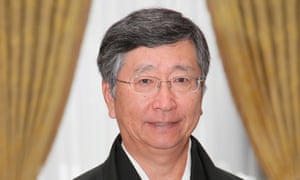 Global banking businesses will face nightmarish decisions if the UK loses its access to euro-clearing trading as part of the Brexit negotiations, the Japanese ambassador to the UK has warned.
Koji Tsuruoaka said that Japanese companies would be among those affected as he emphasised the seriousness of what is at stake as the UK prepares for Brexit. Some EU countries are determined to stop the UK retaining its euro-clearing rights post-Brexit, so the business would be transferred to Frankfurt and Paris.
Tsuruoaka said most global financial service providers, including Japanese companies, have concentrated resources in London because it was the most efficient way for global capital to operate.
Removal of UK euro-clearing rights "is not something that would be welcomed at all by the financial service providers," he said. "Companies have come a long way to establish the most efficient clearing house here in London. Now to be told to go elsewhere, it would be a huge challenge." He added that no other city represented "a natural answer" as a substitute to London and it would be impossible for banks to discuss with each other where to relocate.
"It would be nightmarish if you think about the business decision they would be forced to make," he said.
Since the euro was first used as a currency in 1999, London has acted as the centre of euro-clearing for derivatives, despite not being within the single currency area. The French have insisted that no one will be prepared to see the main clearing house outside of the EU in the wake of Brexit.
Tsuruoaka also suggested that it might be necessary for the UK to negotiate an interim Brexit deal with the EU due to the complexity of the talks. There is a two-year negotiating period that would start once Theresa May invokes article 50, the means by which the UK notifies the EU of its plan to leave. The foreign affairs select committee has begun an inquiry into the possibility of an interim deal in case this is not long enough to settle a full agreement.
Speaking to an EU Lords select committee, the ambassador said: "You may not be able to come to the final conclusion of the permanent agreement because of the time constraint, or because of the difficult need for co-ordination." He said a transitional deal may "allow business to continue as usual". He said that ideally the final agreement would not change how UK-based companies accessed the EU single market.
Japan is one of the biggest overseas investors in the UK but is alarmed that post-Brexit it may see the EU impose tariffs, rules-of-origin restrictions and other barriers.
The ambassador said he has been advising Japanese companies to keep calm and not to jump to any conclusions about the need to relocate. But he knew businesses were starting to research different scenarios.
But he added whenever a final agreement on access to the single market is reached it would be desirable to include a transparent schedule to which any changes would be implemented. "You do not enact laws right after you have adopted them. You have a notice period of, say, a year. You do not change a system of trade all of a sudden to be implemented from the next day onwards."
He also spelt out the consequences of the loss of access to the EU single market for the Japanese auto industry and not just to Nissan, which has already announced it will reinvest in its Sunderland car plant.
Pointing out that a car involves as many as 20,000 parts, he said it was critical that these parts flow freely along a two-way street without tariffs, taking the final product to the EU continental market. He explained: "If there are tariffs on both sides, the company suffers and that is going to be a very costly procedure that is not currently in place. It applies to all manufacturing. If you put some artificial barriers in the way it is by definition going to be costly and inefficient. That is what the Japanese automative companies are concerned about."
He added the EU was refusing to engage with Japan on Brexit for the time being because they say they have not even received an official notification for the UK and so cannot discuss Brexit with any third party. "An engaged dialogue has yet to start between the EU and Japan," he said.
He said he had not been given the reasons why Nissan had decided to reinvest in Sunderland and did not know the precise assurances given to the company by the UK government. "Nissan [is] part of Sunderland and in the Japanese culture when you are part of the community, you do not abruptly break up. They are like family. They are aware of their responsibilities to the people of Sunderland."

[Source:- Gurdian]