Life Behind the Screens of Parents, Tweens, and Teens: McAfee's Connected Family Study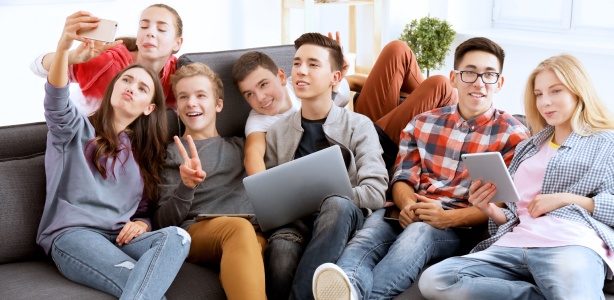 How do parents and children connect and protect themselves online? We spoke with thousands of them around the world to find out.
In December 2021 we conducted a study about beliefs and behaviors about life online among members of connected families—as individuals and as a family unit. Parents and children were surveyed together, with parents answering first and then bringing their children in to consent and answer, leading to findings that represent connected families across 10 different nations.
Through this study, we uncovered universal beliefs about online protection, along with several nuances, all of which pinpointed several tensions between parents and children when it comes to staying safe while enjoying life online.
Four broader topics presented themselves through this study, with each topic presenting several follow-on findings. Here, we'll take a look at each topic and touch on a few of the several findings found within each, followed by a link where you can download the full report with its complete set of insights and trends.
Topic One: Mobile Maturity
While our tweens and tweens seem to grow into adults right before our eyes, their lives online mature into adulthood as well—thanks in large part to their mobile devices.
Our study found that children between 15 and 16 years old see their mobile usage jump significantly, so much so that it approaches levels that they will carry into adulthood. Yet their connected lives start much earlier, with smartphones and mobile devices leading the way online. The result is that most tweens and young teens today have access to the expansive internet in the palm of their hand, which exposes them to the broader internet full of apps, chats, entertainment, and social media—along with the benefits and risks nearly right away.
As far as the risks are concerned, tweens and young teens reported on their experience with cyberbullying, account theft, and unauthorized use of their personal data. Here it appears that several children were exposed to these risks at an early age.
While these experiences start early with 10–14-year-olds, exposure to online risks only increase as teens get older. By age 17 to 18, reports of cyberbullying increase to 18%, attempted theft of an online account to 16%, and unauthorized use of personal data to 14%.
Topic Two: Parents as Safekeepers
As far as life online is concerned, children look to their parents to keep them safe. While parents accept that role, our study found that they appear to have difficulty in following through.
Children said that their parents are best suited to teach them about being safe online, making them the clear winners across all categories. Nearly three-quarters of children pointed to parents, nearly twice than teachers at school (39%) and more than twice over for online resources (34%).
Looking at the reasons for that response more closely, 63% tweens and teens worldwide felt that their parents know enough to protect their security and privacy. This figure was higher for younger children (65%) and then decreased as they reached their late teens (55%). As noted earlier, an increasing number of children in their late teens have experienced online risks at this point, perhaps leading to less confidence that their parents indeed have the knowledge to keep them safe.
Parents recognize their role as protectors online, just as they recognize their responsibility to protect their children in the broader world. An overwhelming 90% of parents worldwide agreed with this sentiment. Like their children, parents felt that teachers at school played a role as well at 36%. However, their second top response was internet providers, weighing in at 41%.
Yet while parents say they view themselves as protectors, there's a gap between intent and effort. On PCs and laptops, parents reported the online protection measures they took for themselves, which appear relatively low given the availability and ease of use with such measures—like installing antivirus software (68%), protecting the computer with a password (58%), or sticking to reputable online stores when shopping (50%).
These figures drop yet lower when asked if they took similar precautions for their children. Thus, as parents protect themselves at a low rate, they protect their children at a rate that's yet even lower.
Moreover, when it came to protection on smartphones, the numbers were similarly low, and often lower than the rate of protection on PCs and laptops. For example, while 56% of parents said that they protect their smartphone with a password or passcode, only 42% said they do the same for their child's smartphone—a further 14% drop.
Topic Three: The Secret Lives of Tweens and Teens Online
It's no secret that teens and tweens may hide their activities online. In fact, they've said as much.
Our research found that more than half of children (59%) take some action to hide what they're up to online. When asked for details, tweens and teens mentioned the following:
Clearing the browser history, 26%.
Close/minimize browser when parent walked in, 21%.
Hide or delete IMs or videos, 15%.
Browse with incognito mode, 15%.
Lie or omit details about online activities, 15%.
Use a device their parents don't check, 10%.
As children grow older, these privacy-keeping activities only increase, particularly when it comes to clearing browser history and using incognito mode in their browser.
Likewise, it appears that it's no secret children are speaking privately with people they don't know online. When asked if they believe their children are having conversations without knowing a person's real identity, 34% of parents said yes. As for children, 37% said yes, marking a 3% difference in awareness between parents and children.
Broken down by age bracket, 36% of children from ages 10 to 14 say they're having these conversations, which jumps up to 41% at ages 15 to 16. Later, from ages 17 to 18, that figure drops to 39%.
Topic Four: Gendered Protection Bias
Parents in our study said that they take different measures for boys and girls when it comes to protecting them online. An apparent gender bias finds girls more protected than boys, yet it is boys who encounter more issues online.
Keeping tabs of a child's safety online takes many forms, some involving apps and software on a child's device, others that require parents to take a more active hand.
As for safety on devices, parental controls software provides one method for monitoring online activity, with features that keep an eye on children's activity, limit screen time, and that block and filter certain apps and websites.
Parental controls software appears to remain a popular option. On PCs and laptops, 33% of parents reported using it. On mobile devices, the figure held at 33% as well.
Further, parents said that they relied on other approaches to help keep their children safe, citing several other ways they oversee their children's time online. For example, in the case of monitoring activity on their child's mobile device, parents say they will:
Limit the time of day or length of time when the child has screen time, 59%.
Check the websites or apps the child visits or uses, 56%.
Look at call records or text messages on a smartphone the child uses, 40%.
Friend or follow the child on social media sites, 35%.
Track the child's location through GPS apps or software, 30%.
However, accounting for age and gender, differences in the use of parental controls arise. Girls in their tweens and early teens see more protection from parental controls software than boys do.
For example, girls 10-14 were more likely than boys of the same age to have parental controls on PCs on laptops in every country surveyed (except Canada), and on mobile in every country (except Germany).
This trend extends to several of the more hands-on approaches, with girls seeing them applied more often than boys. For example, in the U.S.:
47% of parents say they will check the browsing and email history on the PCs of their daughters aged 10 to 14. For boys of the same age, that figure is far lower at 33%.
The numbers for mobile devices were also similar, with reported checks for girls at 48% and for boys at 35%.
Based on reports from boys, they are more likely to experience a range of online threats more frequently than girls do—with issues ranging from attempted account theft, a financial information leak, and unauthorized use of their personal data.
Meanwhile, it is girls who are adopting online activities at a rate much faster than boys, at least on mobile. Girls aged 10 to 14 tend to stream music, use social media, and go online shopping more than boys their age.
In all, girls report that they are reaping the benefits of online life earlier than boys and with relatively fewer security issues. Meanwhile, for boys, that equation is flipped. Their online lives mature more slowly, yet they find themselves experiencing security issues more often.
Further findings
We've seen just how young children are when they reach maturity, at least in terms of their lives online.
By their mid-teens, they're using computers, laptops, and smartphones at rates that will carry into adulthood. With that, they're already experiencing some of the risks and issues that adults do, such as attempted account theft, improper use of data, and leaks of financial information.
These represent a few of the many insights and trends found in our complete report on connected families. Others include noteworthy differences across nations, such as which nations report the highest levels of cyberbullying and which nation has nearly 100% of its young children saying they use a smartphone regularly. Yet more findings reveal insights into screen time, video game usage, and a breakdown of the top online activities for teens—and many more ways families are growing up together through their lives online.
Click here for a full copy of the report.
Survey Methodology
In December 2021 McAfee LLC conducted a study about beliefs and behaviors around digital participation and online protection among members of connected families—as individuals and as a family unit.
Global survey of parents and children, with children answering alongside their parents.
Parents and children were surveyed together, with parents answering first and then bringing their children in to consent and answer.
These findings represent connected families not collections of individuals.
["source=mcafee"]