Everything You Need to Know About Becoming an Aircraft Mechanic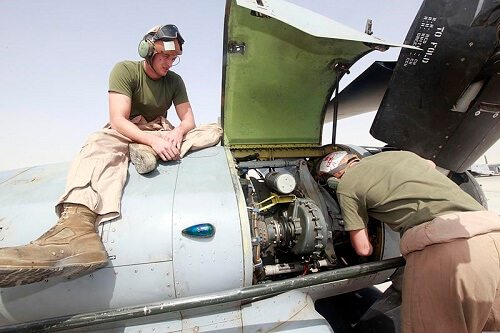 It has been predicted that thousands of aircraft maintenance technicians (AMTs) might be required over the next few years, as more airplanes are in production. It is, therefore, a viable, rewarding and sought-after career to consider.
The Role of an Aircraft Maintenance Technician
An aircraft maintenance technician, known in Europe as an aircraft engineer, will repair, maintain and replace aircraft parts and components. It is their duty to perform engine maintenance and functional checks on hydraulic, electrical and pneumatic systems, plus more.
Aircraft maintenance technicians have a responsibility to inspect, maintain and repairaircraftsprior to take-off. Airlines, the military, government and private companies are therefore always in need of skilled aircraft mechanics to secure their aircraft and helicopters.
The Average Salary
Pay rates will vary depending on the company you work for and the industry demand for the job. It is believed the average starting salary for an aircraft mechanic is between $28,500 to $33,000 per year, which can rise to $45,000 to $60,000, while a senior mechanic can earn $75,000+.Find out what you need to become an aircraft maintenance technician.
A Professional Attitude
The role of an aircraft mechanic comes with considerable responsibilities, as many people's lives will be in their hands. You must, therefore, display a professional, hard-working attitude to take the position and required duties seriously.
An Eye for Detail
An eye for detail will allow you to spot any potential errors that could pose a risk to an aircraft. This teamed with the right training, and an understanding of an aircraft or helicopters' mechanics will mean the pilot, passengers and the public will be safe each time an aircraft takes to the skies.
Professional Training
You will need professional training to enjoy a professional career as an aircraft mechanic, which can be provided by either a technical school or through on-the-job training. A student will also have an option to become a Powerplant or Airframe mechanic – or both.
If you decide to become an A&P mechanic, you will be able to work on avionics once you have received the right training. This may allow you to enjoy a career as an inspector authorization (IA). Anyone hoping to enjoy a career as an A&P mechanic must be able to read, write, understand and speak fluent English. You must also be 18 years old or over.
If you choose to become an aircraft maintenance technician, you must pass a FAA written exam, which is similar in style to a pilot's training. You must also have graduated from an FAA-approved school for maintenance, or you will need to have a minimum of 18 months on the job experience working on either Powerplants or Airframes – or 30 months of experience for both.
If you have a strong sense of responsibility, exceptional problem-solving skills and a professional approach to health and safety regulations, you may have what it takes to enjoy a rewarding career as an aircraft maintenance technician.