Banks' duty to provide free ATMs and keep branches open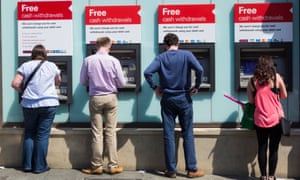 I note the current negotiations over the future of the ATM network (Fees row may lead to charge for Link cash machine withdrawals, 19 January). In 2005, I led a Treasury committee inquiry into cash machine charges which found hundreds of local areas where consumers were being hit with high charges. In Speke, a low-income area in Liverpool, consumers faced charges of £1.50 for making cash withdrawals. I established a working group including banks, consumer groups and ATM operators. The banks unanimously committed themselves to the long-term future of a large network of free cash machines and a "financial inclusion premium" was introduced for operators of free cash machines in 1,500 under-served low-income areas.
The importance of the free-to-use ATM network has increased as banks have closed 1,000 branches in the past two years. It would be a disaster for the banks, as well as consumers, SMEs and low-income areas, if we returned to the position of the 1990s, when a confusing patchwork of agreements caused many consumers to pay excessive cash machine charges and penalised challenger banks.
It is vital that as part of the current negotiations banks, ATM operators, the Payment Systems Regulator and the Bank of England focus on agreeing a deal that guarantees the long-term viability of a widespread network of free-to-use cash machines and promotes financial inclusion and competition.
John McFall
House of Lords
• When the chairman of HSBC, Douglas Flint, appeared before the Treasury select committee back in 2015 to face questions on the bank's activities, he admitted his shame at "a terrible list". He wasn't wrong. It included Libor manipulation, mis-selling mortgages to Fannie Mae and Freddie Mac, Forex rigging, weakness in money laundering and systematic aiding of tax avoidance at its Swiss subsidiary.
Two years on, we can now add disregard of local communities and high streets to that list. Last year, HSBC closed over 200 branches – more than any of the other major banks – and it has just announced another 62 closures this year (Report, 25 January), including in my constituency of Wood Green. Gone is its commitment to being the "world's local bank". If it carried on at this rate, it would have no branches left by the end of 2019.
It's a real blow to the many residents and businesses who rely on over-the-counter branch services and to the dedicated branch staff. I have called for an urgent meeting with HSBC bosses to discuss these proposals and will be urging them to rethink their misguided plan.
[Source:- Gurdian]