Blackstone Targets Brazil Real Estate Amid Credit Squeeze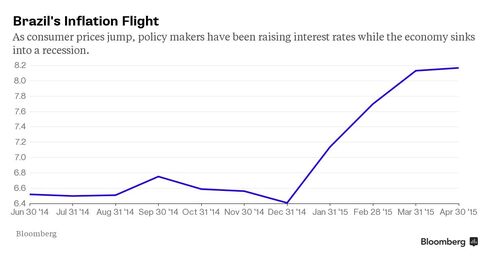 After tripling its money on big U.S. real estate bets, Blackstone Group LP is taking on Brazil.
The Visconde de Inhauma Corporate, which Blackstone bought with its Brazilian partner in December, has a modern metal sculpture in the lobby and Chevron Corp. as a tenant. The 18-story glass edifice, surrounded by buildings in disrepair and graffiti-covered walls, stands tall in a sinking real estate market.
Blackstone, whose Hilton Worldwide Holdings Inc. buyout is the most profitable ever, is now bargain hunting for more commercial property in Brazil along with Brookfield Asset Management Inc. and JPMorgan Chase & Co. With the economy headed for a recession and a government-owned oil company grappling with the worst corruption scandal in the nation's history, property values have dropped as much as 20 percent in parts of Sao Paulo, said Helmut Fladt, real estate director at Patria Investimentos SA. Lured by attractive prices, investors are at risk of buying well before the market hits bottom.
"Brazil is a complicated market, more volatile than investing in the U.S. and Europe," said David Roth, senior managing director in Blackstone's real estate unit who oversees Latin America. "It's definitely an expansion market for us, one we'd like to become more involved in."
Psychological Distress
Blackstone is opening its own office in Sao Paulo as it invests a new global real estate fund of more than $15 billion. It hired Marcelo Fedak, formerly head of real estate for Brazilian Grupo BTG Pactual, to lead the unit.
In 2010, New York-based Blackstone took a 40 percent stake in Patria, an alternative asset management firm in Sao Paulo, to be its eyes and ears on the ground. The two companies bought four office towers in Rio de Janeiro in December. Patria, which has about $2 billion in real estate assets under management, is raising a $600 million real estate fund for South America.
"There is a fair amount of psychological distress. There are a lot of Brazilians who would like to park all their money on Brickell Avenue in Miami and that's creating opportunities," said Roth, referring to the city's financial center.
The scandal at oil giant Petroleo Brasileiro SA adds to the real estate turmoil. Prosecutors accuse company executives of demanding bribes in exchange for awarding lucrative contracts to construction firms — including some with commercial-property businesses. The investigation has already helped drive at least five Petrobras contractors into bankruptcy and created a credit squeeze for the entire building industry.
Developers in Trouble
"We are starting to see some developers in trouble, needing capital to continue developments, and we can provide that capital buying buildings that are already generating cash flow," Roth said.
Blackstone's opportunistic approach echoes its deal-making in the U.S. The company made robust profits on some of the more than $40 billion of real estate — including hotels, shopping centers and warehouses — it bought from late 2009 to 2012 in the aftermath of the financial crisis.
The firm has roughly tripled investors' money in its two largest buyouts — Equity Office Properties Trust and Hilton, which were done near the peak in 2007. Blackstone posted a gain of more than $5 billion on its Hilton stock sales and has a paper profit of more than $9 billion in its remaining stake.
Brazil's commercial building boom that began in better economic times has created more than 700,000 square meters (7.5 million square feet) of high-end office rental space in the most expensive Sao Paulo neighborhoods in the past two years, according to Cushman & Wakefield Inc. That's contributing to today's glut of empty buildings.
Building Boom
"I have never seen companies building as many upscale commercial properties in Sao Paulo," said Patria's Fladt. "We are facing a period of oversupply in Rio and Sao Paulo with falling rents and occupancy rates."
Sao Paulo's vacancy rate for high-end commercial real estate rose to 24 percent in the first quarter from about 16 percent in the first three months of 2013, according to Cushman & Wakefield. The figure in Rio increased to a record 18 percent from 6 percent. During the same period, asking rents in Sao Paulo fell to $35 a square meter from $67, and to $35 from $64 in Rio.
The market is poised to get worse before it gets better. The economy this year may experience its worst contraction in a quarter century, estimates compiled by Bloomberg show, and policy makers have nothing left in their quiver to stimulate growth.
High Inflation
President Dilma Rousseff's government is using austerity measures to rein in the national debt and prevent a credit-rating downgrade. And the central bank has been raising interest rates to reduce the highest inflation — 8.24 percent through mid-May — since 2004.
"The picture is bad, and there's no sign of improvement in the short term," said Jankiel Santos, chief economist at BESI Brasil in Sao Paulo. "It's been some time since we've seen economic contraction with inflation at the level we're at today."
Two years ago, before Brazil's economic slump, Blackstone and Patria made their first joint investment in Brazil. They took a 70 percent stake for 1.4 billion reais ($443 million) in Alphaville Urbanismo SA, one of Brazil's leading residential developers. The deal was a bet that the appeal of its gated communities would withstand a slowdown in home-price appreciation. Alphaville posted net income of 146,234 million reais in 2014, a 25 percent drop from the prior year.
Brookfield's Deals
Brookfield Asset Management, which is raising a $1 billion real estate fund to invest in Brazil, is also making deals. In September the Toronto-based firm purchased from Tishman Speyer a legendary $312 million property on Faria Lima Avenue in the heart of Sao Paulo's financial center. The new building, with 25,000 square meters of offices, is being rented for 10 years to Banco Itau BBA SA.
A Brookfield unit teamed up with Grupo BTG Pactual in February to take private BR Properties SA, a commercial real estate company whose shares have dropped about 63 percent from their peak in October 2012. If all current shareholders sell, Brookfield would invest 405 million reais to buy the stock while holding on to some of the firm's properties, according to a Feb. 26 regulatory filing.
In a market that may not improve for two to three years, Patria's Fladt said, Blackstone is treading with caution.
"We are pretty disciplined," Roth said. "The truth is, no deal is better than a bad deal."
["source – bloomberg.com "]