Blow to aim of Scotland fiscal autonomy as North Sea oil tax forecast slashed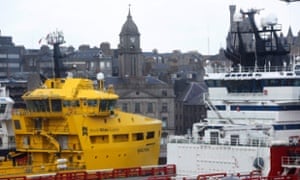 The Office for Budget Responsibility has warned that North Sea oil and gas could generate just £100m a year in tax in future after it dramatically slashed its forecasts for North Sea tax receipts.
In a significant blow to the Scottish National party's quest for full fiscal autonomy, the OBR said it now believed the sector could only generate a total of about £2bn in tax revenues over the 20 years from 2020 to 2041, compared with its forecast last year of £37bn for the same period.
The OBR stressed that since the sector was highly volatile and unpredictable, its figures were subject to "large forecast errors" and uncertainty.
But it said the latest revisions were based on recent tax cuts for the sector by the chancellor, George Osborne, introduced after the collapse in global oil prices and a linked fall in North Sea productivity, coupled with the steep surge in tax discounts to help the industry pay to decommission its ageing oil platforms.
Those developments, which will increase debate about the sustainability of Scotland's higher public spending per head than the UK average, meant the OBR has also cut its predictions for tax receipts in 2019-20 to £700m, down from the £3.5bn it forecast last year for 2018-19.
Its analysis was published as the SNP was accused by Scottish Labour of selling "snake oil" to the electorate after the SNP sought new powers at Westminster to give Holyrood full fiscal independence from the Treasury.
The party tabled amendments to the Scotland bill to allow Holyrood full control in future over all Scottish taxation, excise duties, borrowing and government spending, save only spending on UK level areas such as foreign affairs and overseas aid.
Hours earlier, Nicola Sturgeon, Scotland's first minister, had again stressed she wanted maximum fiscal independence for Scotland as she met Christine Lagarde, the head of the International Monetary Fund, on her official visit to New York where the pair discussed the current position of the Scottish economy.
Ian Murray, Labour's shadow Scottish secretary, said the OBR's new figures "highlight the madness of full fiscal autonomy for Scotland. The SNP is looking to deliver something that they know is economically illiterate and raises questions about their economic credibility."
Scottish Labour's deputy leader, Kezia Dugdale, said that making Scotland totally dependent on taxes raised within the country – the central purpose of full fiscal autonomy – would be economically disastrous following the plunge in oil prices to around $65 a barrel.
Dugdale said a new Scottish Labour analysis, based on research by Scottish parliament statisticians produced before the OBR's latest forecasts, showed the global oil price would need to hit $200 a barrel for fiscal autonomy to be affordable because of the projected gap between tax revenues, public spending and debt levels.
The independent Institute for Fiscal Studies warned in April that fiscal autonomy would deepen Scotland's financial black hole by a further £7.6bn in this financial year, on top of existing debts and the current spending gap shared by Scotland.
By 2019-20, that fiscal gap would widen further to £9.7bn, leaving an accumulated shortfall by then of £43bn, which would also be over and above Scotland's current spending gaps and debt repayments.
Brandishing a copy of the Labour document at first minister's questions, Dugdale pressed John Swinney, the deputy first minister and finance secretary, to explain why the Scottish government had not published any recent oil and gas report.
"Once upon a time, you couldn't move for SNP oil and gas bulletins," Dugdale told the chamber. "But since the collapse in the oil price, we've had nothing but radio silence. That may be because the collapse in the oil price has demolished the SNP's economic credibility."
Moving to exploit Sturgeon's absence from Holyrood on her tour of the US, Dugdale said: "This is less about North Sea oil and more about the SNP's snake oil. He's trying to punt us something he knows to be dodgy. So for the sake of Scotland's schools and hospitals shouldn't the deputy first minister just abandon his disastrous plan for full fiscal autonomy?"
Swinney insisted his government's next oil and gas bulletin needed to investigate the full implications of the swingeing changes in taxation introduced in Osborne's last budget before it could be released.
Attacking Dugdale, he said: "This is the politics of fear. It didn't work in the general election and and it won't work now."
Fiscal autonomy was about "building on the powers of this parliament, powers that over the last 16 years have seen an improvement in the economic performance of Scotland", Swinney said.
Scotland's GDP had grown from sixth in the UK to third behind London and the south east of England, while productivity had grown from 96% of the UK average to match it now.
"The moral of this story is where we can exercise distinctive economic policies in Scotland we can transform the economic performance of our country," he said. "It's about enabling this parliament to take the decisions that are right for Scotland, and not to be at the mercy of a Tory chancellor who comes along one Thursday and takes £100m out of our budget without so much as a by your leave."
["source – theguardian.com"]