Google sparks online outcry after its currency converter goes haywire for third time this year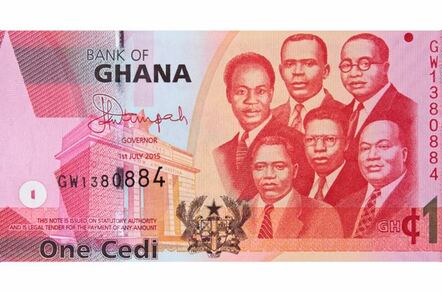 What's that old saying? Ah, yes, it's right here in Google's corporate handbook: never apologize, never explain.
The online ad giant has expressed its regret to the government of Ghana for a software bug that made it appear last week that the country's cedi currency had collapsed.
According to the country's Ministry of Finance, Google's currency conversion widget – presented in response to a search like "1 dollar to cedi" – "displayed a cedi to dollar rate that was four times the actual value, alongside erroneous market rates of a number of currencies against the Ghanaian Cedi."
The cedi, presently trading at about 5.22 per dollar and around 5.56 last week, hit 22.72 per dollar according to Google, meaning the currency would buy four times fewer dollars than the day before.
The resulting confusion surfaced online and across social networks, but fell short of mass panic – other more reliable sources of exchange rates provided a reality check – though the snafu nonetheless prompted Titi Akinsanmi, Google's head of public policy and government relations for French-speaking Western Africa, to send a little note to Ghana's Minister of Finance and the Governor of the Bank of Ghana.
An excerpt from the missive, published by the Finance Ministry, explained that Google is aware of the inaccurate currency conversions on Friday, March 15, and attributed the issue to "a minor glitch that was quickly fixed."
"We always aim to provide people with the most relevant, useful information to help them to make the right decisions," said Akinsanmi. "But sometimes there are temporary issues that can cause people to have undesired experiences, like the one this past Friday. This was regrettable."
The Finance Ministry, in calling attention to Google's response, appears to be displeased by the absence of contrition. "Although she expressed regret over what has affected two other countries since the beginning of the year, Mrs Akinsanmi stopped short of apologizing for the glitch," the Finance Ministry said in a statement.
The two other countries vexed by Googly glitches are Nigeria and Pakistan. In February, Nigerians searching Google for exchange rates saw the rate for the Nigerian Naira currency drop to 184 per dollar while the official exchange rate remained at about 306.
Google at the time acknowledged the problem via Twitter and said the company removed its "conversion onebox" from surfacing in search results until it could be fixed.
In January, Pakistanis were contemplating a similar exchange rate windfall, which would allow them to buy far more dollars than expected per Pakistani Rupee.
Google's currency conversion widget includes a disclaimer that says the company cannot guarantee displayed exchange rates are accurate.
["source=theregister"]