Here are Some Invaluable Facts about Custom Binders you need to know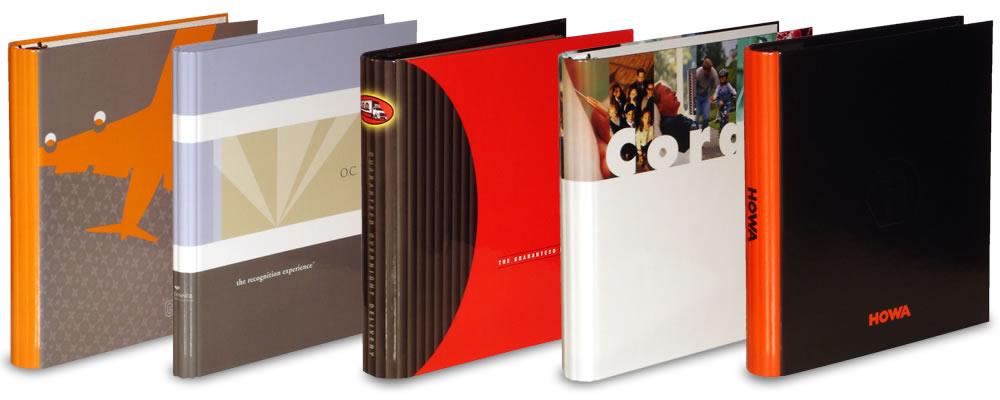 If you are a company executive you will concur that the world of marketing is changing far too rapidly.  Trying to keep up with the latest marketing techniques is not easy in light of these ever evolving techniques. Luckily, there are some good old marketing tools that have withstood the test of time and the custom binder is chief among these.
The Quintessential Branding Tool
Yes, you must be wondering how a custom binder fits into your branding campaign and indeed you are in for a big surprise. For a start you need to appreciate that the binder in the modern world is completely different from the plain office document holder of years gone by.
Today you have a sophisticated and sleek product that comes with your logo, company pictures and an amazing design to make it more than a paper holder. In fact a well-designed product serves like a promotional tool as it draws attention from anyone using it.  In the office this product can be used to motivate your teams as they will feel proud when they go to the field carrying these amazing looking products.
With your corporate logo featuring prominently on the cover, it is easy for clients to associate with your brand. You can even use these bindersto hand over important documents to your clients after a contract is signed.  This is a subtle way of marketing your brand without moving from your seat.
Today's binder also comes with more features such as pockets to hold more documents, CD/DVD pockets to hold these devices when on the move and even a die-cut window to give an idea of what is contained inside among other add-ons.
The Advantages of Using a Custom Binder
If you are not yet carried away by this innovative custom product consider some of these practical benefits of using this type of binder. Here you go.
Aesthetic Touch
It is true your binder basically serves as a storage solution to improve organization in the office.  Nevertheless, you can go beyond the obvious and customize your products in order to give them a personal touch. When your employees use these beautiful products, they are more motivated because after all who doesn't like using a nice company product?
More Functionality
Your new binder offers you more than storage; they offer better security for your documents because they have add-ons that are customized to make them close tightly. What's more, protective pockets can be used to store more sensitive documents while they can also be made using a 3-ring easel to make it easier to store them in an upright position.
Branding Ability
The more your brand's logo is seen the better for your business. By incorporating your brand logo, colors and taglines on this document holder you are in essence marketing your company. Your clients will be more excited to get their contract documents on a branded product as opposed to the regular store document holder.  This is an easy way to market your brand at a very minimal cost.
Eco-friendly Options
Every brand today is concerned about the environment. If you are looking for paper solutions and you want to use an eco-friendly alternative, it is time to for available customized solutions. By using recycled paper or vinyl-based raw materials, you will help save millions of trees that would otherwise have been used to make this product.
Versatile Range of Products
One of the most outstanding factors about a customized binder is the fact that there are myriad styles to choose from. The most common ones include vinyl, paperboard, eco-friendly, pocket, die-cut window and reinforced edge binders among others. In essence, there is a choice for everyone and you can request for any style that suits you perfectly.
At www.thepaperworker.com you will get the widest range of custom binder options.  There are myriad designs to choose from the platform and you can easily get a custom quote once you have decided the design that best suits your organization. Whether you are looking for organic materials or vinyl, there is a solution waiting for you from this company that boasts over 60 years of manufacturing customized products.
Getting the Most from a Custom Binder
Well, you must ensure the manufacturer has the right pedigree in the industry. Go for a reputable company and you can choose one by reading reviews, looking at their range of products and even asking for referrals.
In addition, consider the protective coating used, quality of printing, stock choices, durability of add-ons, customizable features available, eco-friendliness of the product, flexibility of the company, available designs, among other factors.
Isn't it time you leveraged the amazing power of a custom binder? Of course you can play around with the designs, size, colors and customizable features to give this branding tool that personal touch you desire. This is without doubt one of the most versatile branding tools out there. You get an ideal paper storage solution while also marketing your brand, talk of killing two birds with one stone?
Author Bio
Tim Abott is a marketing consultant, writer and mentor with 31 years experience handling different types of marketing techniques. He is also a custom foldersdesigner and encourages businesses to leverage the power this tool offers.