Living wage campaign signs up its 1,500th member company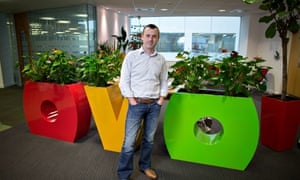 A campaign to help the low-paid has received a major boost with the accreditation of the 1,500th company in the UK to agree to pay the living wage.
Fixed at £9.15 an hour in London and £7.85 an hour outside London, the living wage is significantly higher than the legally enforced minimum wage of £6.50 an hour.
Bristol-based Ovo Energy, which is one of the UK's fastest-growing independent energy suppliers and employs 850 staff, joins major companies such as KPMG, Barclays and PwC, local authorities such as Cardiff, Birmingham and Manchester, and Premier League football club Chelsea in signing up to the scheme. The Scottish government also signed up to last week.
"All our direct employees are already paid above the living wage," said Kim Atherton, of Ovo, the 10th fastest growing business in Britain. "But we've raised the bar now to ensure fair wages for our contractors, too."
The community organisation Citizens UK launched the campaign for the living wage in 2001. In 2011, the Living Wage Foundation was established to give companies advice, support and accreditation. "The living wage is now a truly UK-wide movement and recognised as a mark of responsible business," said Rhys Moore, director of the foundation. "We have accredited 1,500 leading employers, ranging from independent printers, bookshops and breweries to well-known companies such as Aviva, Nationwide and Nestlé. These businesses recognise that clinging to the national minimum wage is not good for business. Customers expect better."
One in five employees in the UK earn less than the Living Wage and two-thirds of children living in poverty are in a family in work. The milestone of the 1,500th company to sign up also underlines the power of consumers who opt to give their business to companies that have become accredited.
Advertisement
"The accreditation of Ovo Energy helps take the living wage into the consumer area," said Moore. "As more and more independent retailers and services become living wage employers, the public can start to show their support for these businesses through their purchasing decisions."
Ovo Energy joins the FTSE 100 energy firm SSE as an accredited employer in the energy sector.
Neil James, director of Citizens UK, said: "Today's announcement, securing the 1,500th accredited employer, is a fantastic achievement, but there is still a long way to go to tackle the shocking situation we find ourselves in today, where so many of those in poverty live in a household in which someone has a job.
"We believe that work should be the surest way out of poverty. That's why we will continue to act to encourage those businesses who can to pay the living wage. This is about dignity for working people."
["source-theguardian.com"]