Near Goldilocks Economy Gives Trump an Edge in 2020, Suggests Wall Street Firm
By CCN: Brace yourselves for six more years of MAGA. One of Wall Street's oldest investment banks, Goldman Sachs, is betting on Donald Trump in 2020. Goldman economists have predicted that President Trump has the advantage, albeit a narrow one, over any Democratic candidate. While the Dow Jones Industrial Average was down fractionally today, it's up a staggering 13% year-to-date, which bodes well for Trump's chances.
IT'S THE ECONOMY, STUPID
Donald Trump has a few things going for him, not the least of which is the incumbent advantage, which according to Bloomberg can add between five and six percentage points to the popular vote results. Mostly, however, it's the economy, and Goldman's economic forecast is a tailwind for MAGA.
Despite calls for a recession, the Dow is still booming, unemployment levels remain staggeringly low, and 2017's $1.5 trillion tax stimulus isn't too far in the rearview mirror. Meanwhile, Democrats are talking about lifting taxes on the wealthy, or in the case of Rep. Alexandria Ocasio-Cortez's Green Deal, raising everyone's taxes to fund universal health care, jobs for all, and "economic security for all who are unable or unwilling to work."
While naysayers were predicting economic Armageddon, voters are looking at the size of their portfolio.
"The advantage of first-term incumbency and the relatively strong economic performance ahead of the presidential election suggest that President Trump is more likely to win a second term than the eventual Democratic candidate is to defeat him," according to Goldman Sachs Economists Alec Phillips and Blake Taylor in a report cited in Bloomberg.
President Trump has been saying so all along.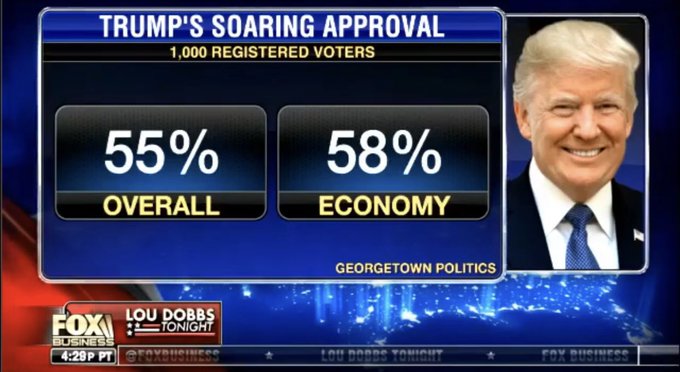 DOW SHOULD BE TRADING 5,000 TO 10,000 POINTS HIGHER
Even with the Dow's resilience, President Trump believes stocks should be doing better. He blames the Fed, saying if they didn't mess things up, the stock market would be trading between 5,000 and 10,000 points higher. That would place the Dow close to 40,000 on the high-end, which incidentally isn't too far from where Fundstrat's Tom Lee is predicting it is headed in 2019.
GDP, which economist El-Erian predicts will be as high as 3% this year, could have been "well over 4%" according to Trump if were it not for the pesky Fed and its quantitative tightening ways.
Goldman Sachs has issued a rosy economic forecast that will serve as yet another tailwind for the president, including:
2019 GDP of 2.5%
2020 GDP of 2.3%
2019 unemployment rate of 3.7%
2020 unemployment rate of 3.3% in 2020
The Goldman economists suggest that Trump can thank low unemployment and robust income over any bump the Dow provides. Economic performance in Q2 2020 will be the real test, they add. President Trump isn't worried and is already practicing his acceptance speech.