NT to give mining companies $850,000 in grants for mineral exploration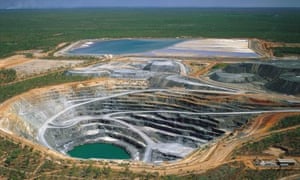 Environmental groups have slammed the Northern Territory government's decision to give $850,000 in grants to mining companies to explore for minerals including uranium as "bewildering".
The government's move comes just days after a Rio Tinto-backed company announced it would not go ahead with its planned Ranger 3 Deeps mine near Kakadu national park because of falling uranium prices.
On Wednesday the NT minister for mines and energy, Dave Tollner, announced grants totalling $850,000 would be paid to nine companies to carry out 10 mineral exploration projects under a $23.8m government program.
The companies to receive the grants are Emmerson Resources, Cameco Australia, Areva Resources, Core Exploration, Rockland Resources, Pacifico Minerals, Teck Australia, MMG Exploration and Tom Oates.
Cameco Australia is one of the world's largest uranium producers.
The grants of up to $100,000 will pay for half the costs of drilling and geophysical programs "in areas of the NT where there is a lack of geological information", said Tollner. The grants are to search for gold, base metals, uranium, manganese, zinc and petroleum.
"Some sectors of the resources industry are facing challenges at the moment, but it's still a major employer of Territorians and will be one of the long-term drivers of our future prosperity," Tollner said in a statement.
"These grants give companies an incentive to get out there and discover what resources the territory can count on in the future."
Lauren Mellor, spokeswoman for the Northern Territory Environment Centre, criticised the decision and said taxpayer funds should be spent on the public interest, not global companies.
Advertisement
"The most galling part is that it comes at the expense of the growth of an environmentally and economically sensible renewables industry which would create local jobs in clean and safe technology like solar," Mellor said in a statement.
The government funding for exploration comes just days after Energy Resources Australia announced it would not proceed with its controversial Ranger 3 Deeps uranium mining project because "the uranium market has not improved as ERA previously expected and there is uncertainty regarding the uranium market's direction in the immediate future".
Shares in ERA, which is majority owned by Rio Tinto, dropped significantly following the announcement.
ERA also said in their announcement the economics of the 3 Deeps project would need to operate beyond ERA's current Ranger Authority, which expires in 2021.
The company said it is conducting talks with traditional owners and the federal government about extending the authority, but the Australian reported on Tuesday the Mirarr traditional owners would not support an extension.
David Morris, executive officer and principal lawyer at the NT Environmental Defenders Office, said the NT government's decision was "bewildering".
"It doesn't seem to make a whole lot of sense when you have one of the most well resourced backed mining companies in the world [backing out on a mine]," Morris told Guardian Australia. "If [ERA] can't make it work with uranium at its current price levels in the territory, why bother spending what is quite a small amount of money in terms of what is required to get one of these operations up and going?" said Morris.
"[The grant] is such a drop in the ocean for these kind of companies."
Morris also pointed to the Northern Territory's "poor and weak" environmental protection laws and said pushing these kinds of investment "sets yourself up to fail in the future and sets yourself up for further instances of catastrophic environmental damage, and further instances of companies walking away and leaving a legacy for the Northern Territory taxpayer".
Under the current authority, ERA is obligated to rehabilitate the current Ranger site by 2026, but has previously confirmed its ability to pay for its rehabilitation was contingent on the creation and profitability of the 3 Deeps project.
In a statement to Guardian Australia, ERA confirmed this remained the case, but as per last week's announcement, it has now "engaged with its major shareholder, Rio Tinto, regarding funding support for rehabilitation, should additional funding ultimately be required".
Rio Tinto confirmed it had engaged with ERA on a "conditional credit facility" to fund rehabilitation should ERA's future stockpiles profits and current cash reserves not be enough.
The Ranger mine was forced to stop production in late 2013 after a leach tank failed, spilling about one million litres of radioactive and acidic slurry.
Dave Sweeney, a spokesman for the Australian Conservation Foundation, said the environmental organisation "welcome the fact that ERA has sought an assurance from its parent company Rio Tinto that the required cleanup costs will come at the expense of the company and not the public".
Environment groups have called for ERA to release detailed plans of its cleanup operation.
Tollner could not be reached for comment.
["source – theguardian.com"]