Retail Christmas: the winners and losers in the UK
The festive shopping season is the busiest time of year for retailers, both online and on the high street. Here's how they fared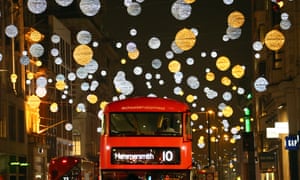 The run-up to Christmas is the busiest time of year for high street and online retailers. With companies now revealing how they performed during the vital festive season in January trading updates, the winners and losers are emerging …
Tesco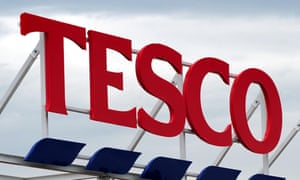 Tesco cheered the City with news of a much stronger than expected performance, pushing sales in its core UK supermarkets business up by 1.3%. Analysts forecast a fall of up to 3%.
Chief executive Dave Lewis said the group, Britain's biggest retailer, had benefitted from lower prices on an improved range of products and better customer service.
Home Retail Group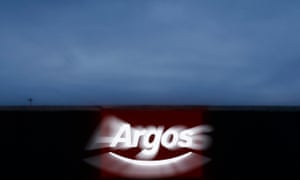 The group has warned that poor sales at its Argos chain would hurt profits, with a2.2% fall in like-for-like sales in the 18 weeks to 2 January, worse than analysts expected. Sales at its stores slumped 13% in December, with shopping centre and high street stores badly hit, which was only partly offset by 10% growth in digital sales. Its other chain, Homebase, enjoyed 5% growth, boosted by kitchen and bathroom products.
Burberry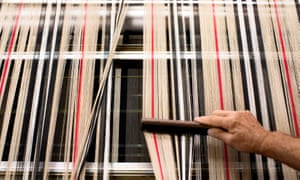 Sales at Burberry have improved after a return to growth in China and strong demand in Europe, but the British fashion brand warned that the outlook for the luxury sector remained uncertain.
Burberry said like-for-like sales were flat in the last three months of 2015. This was an improvement on the 4% decline of the previous quarter, but missed the group's own targets. Retail sales revenues edged up 1% to £603m.
The company highlighted a slump in Hong Kong and Macau, which dragged down sales across the Asia Pacific region overall, even though mainland China and South Korea returned to growth. Sales in Hong Kong fell again, by more than 20%, while Japan remained strong. Burberry stressed all its Hong Kong stores remained profitable.
Sainsbury's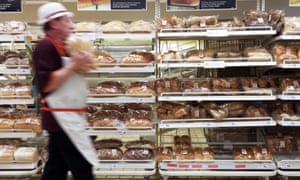 Sales at stores open a year or more fell 0.4% in the 15 weeks to 9 January, better than a predicted fall of 0.7%. The supermarket said the Christmas campaign had been helped by the success of the Mog the cat advertising campaign. Chief executive Mike Coupe said the company's performance in the third quarter of its financial year meant it now expected sales at established stores to be better in the second half of the year than in the first half.
Primark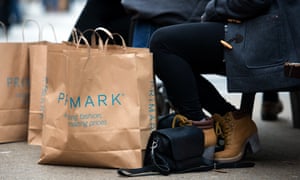 The fashon chain experienced a disappointing Christmas as warm, wet weather across Europe hit sales growth. Analysts said sales at the cut-price chain's established stores were flat in the 16 weeks to 2 January compared with the same period a year before. Analysts had expected growth of 2%.
Primark's difficulties reflected problems for many clothing retailers ahead of Christmas, as shoppers left knitwear, coats and winter boots on the shelves during the warmest December on record.
JD Sports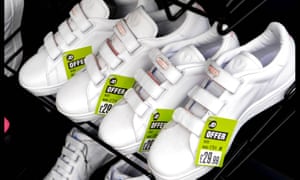 JD Sports like-for-like sales across the UK and Europe rose 10.6% over Christmas, prompting a hefty profit upgrade, with analysts raising their target price on the stock with shares rising more than 4%.
The retailer is now confident of beating market expectations for annual profit before tax and one-off items of £136m by up to 10%.
JD has recorded strong demand for trainers made by Nike and other leading brands and women's sportswear for some time, which pushed first-half profits up 80% to a record £46.6m.
Fortnum & Mason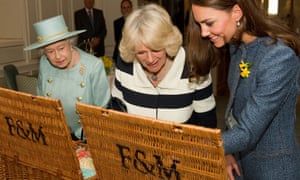 The venerable grocer has emerged as a Christmas winner after its famous hampers, sold via a revamped website, proved popular around the world.
The London department store, founded in 1707, said like-for-like sales were 15% up over the key Christmas period, the five weeks to 3 January, pushing annual profits up 31% to £5m. Fortnum said it recorded the best trading day in its history on 15 December.
Online sales were particularly strong, up 38% year-on-year, after the firm redesigned its website. Sales of hampers rose 26% as it dispatched products to a record number of countries.
The group's expansion beyond its traditional base in Piccadilly appears to have paid off. Fortnum's flagship London store delivered the highest sales total, but the biggest percentage increase came from its store at Heathrow's Terminal 5, where sales rose 63%.
Morrisons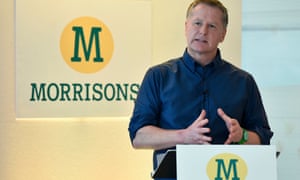 Morrisons achieved a surprise increase in sales over Christmas as customers returned to the supermarket chain.
Sales at stores open a year or more, excluding fuel, rose 0.2% in the nine weeks to 3 January. City analysts had expected like-for-like sales, which exclude new stores, to fall 2%.
Morrisons said customers were starting to return to its stores with like-for-like transactions up 1.3% in its core supermarkets during the period.
Debenhams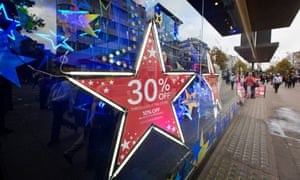 Christmas sales beat expectations with a 3.5% rise as the department store chain relied less on discounts and cut stocks of coats and outerwear to take account of warmer winter weather.
Home Retail Group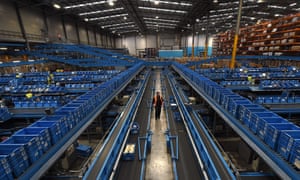 The owner of Argos and Homebase issued an unusual profit warning before Christmas, stating that the festive season was less predictable than in the past and that it was investing more than expected in launching a same-day delivery network across the country. The warning was linked to the rise in prominence of Black Friday in the UK, which has led to a peak in sales in late November and widespread discounting on the high street.
The company is scheduled to publish sales figures for the Christmas period on 14 January. These will be more heavily scrutinised than usual by investors after Sainsbury's revealed it had made a takeover bid for Home Retail.
Bonmarché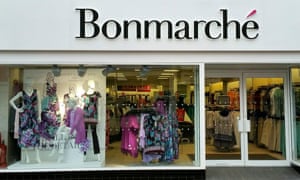 The clothing retailer targeted at women over 50 also downgraded its profit expectations before Christmas. The company said on 16 December that trading on the high street had been very challenging and had not normalised since Black Friday, as it battled against discounting and warmer-than-average weather, which dampened demand for winter clothing.
Game Digital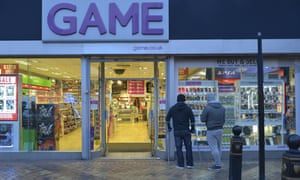 For the second Christmas in a row, the video games retailer warned that its performance and profits were not as strong as it hoped. Shares in the company fell 40% on 23 December as Game outlined a collection of reasons why it struggled.
This included gamers making a slower-than-expected switch to the new PlayStation 4 and Xbox One consoles, but at the same time a slowdown in sales of older content. These factors were exacerbated by a decline in visitor numbers to the high street and shopping centres during December.
Next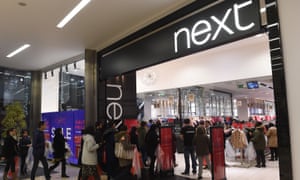 Traditionally among the Christmas winners, Next set the tone for a string of gloomy January trading updates from clothing retailers when it warned that sales between 26 October and 24 December rose by just 0.4% year-on-year.
This represented a notable slowdown in sales for Next compared to the rest of the year and included a 0.5% drop in in-store sales. Simon Wolfson, the chief executive, blamed the performance on unusually warm weather and even produced a chart to show how the changing temperature affected demand for winter coats.
John Lewis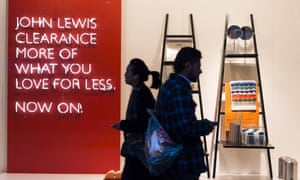 The department store managed to outperform its rivals by reporting a 7% increase in sales for the six weeks to 2 January. Not only did John Lewis deliver a 6% rise in clothing and beauty products despite the weather, but home sales rose 5% and electricals gained almost 10%.
The performance was driven by the retailer's online business, with sales on smartphones and tablet computers up 31%. Online accounted for 40% of John Lewis sales, with in-store sales estimated to be down.
Waitrose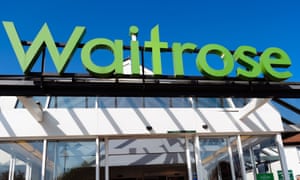 The pressure on Britain's supermarkets took its toll on Waitrose, the John Lewis Partnership's upmarket grocer, which suffered a 1.4% fall in sales at established stores. Food retailers are being dragged down by fierce competition, changing shopping habits, and price deflation, which is the result of falling commodity prices and retailers battling over the price of essentials and seasonal favourites. Despite Waitrose suffering a decline, boss Mark Price said he believed the retailer had gained market share in December.
Marks & Spencer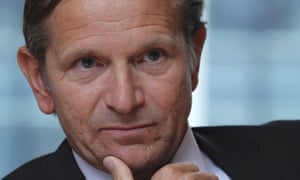 It was a tale of two Christmasses for Marks & Spencer. Sales in the company's food business rose by 0.4% in shops open for more than year, but like-for-like sales in general merchandise, which is primarily clothing, slumped by 5.8%.
Like his peers the M&S chief executive Marc Bolland said the mild weather had weakened demand for winter clothing. Bolland also announced he would step down as boss of M&S.
Greggs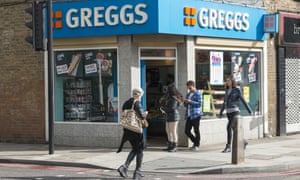 The bakery chain saw a slowdown in year-on-year sales during the festive period, which it blamed on a strong period of trading the previous Christmas and a fall in visits to its high street stores.
Poundland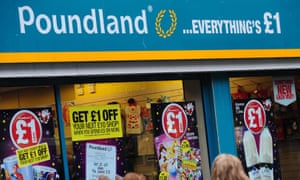 The discount retailer was another Christmas loser. Although Poundland sales rose 29.4% in the 13 weeks to 27 December, this included stores acquired through the £55m deal to buy 99p Stores and a swath of new stores that it has opened.
Analysts estimated that sales at Poundland's established stores had fallen by around 3%. As a result, Poundland warned that annual profits will now be at the lower end of expectations.
Sports Direct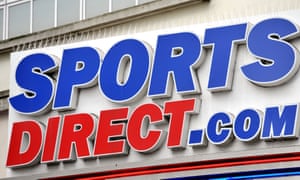 A miserable month for Sports Direct was capped off by a shock profit warning. The company said that a fall in footfall on the high street and a unseasonal weather since its latest statement on 10 December meant that annual profits could miss the target of £420m by as much as 10%.
The profit warning followed an investigation by the Guardian into the company's treatment of workers, and analysts said this could have sparked a backlash by shoppers.
House of Fraser
The department store chain, now owned by Chinese conglomerate Sanpower, enjoyed a 5.3% year-on-year rise in sales at its established shops and online. Nigel Oddy, chief executive, said he was delighted with performance in the six weeks to 2 January.
Oddy said: "This year, we saw a very strong start to the key Christmas season with Black Friday being particularly strong online, with sales up 40% on the year – our biggest online day ever. Our stores have also performed well over the festive period, in particular our recently refurbished stores which showed strong growth in the final week before Christmas."
[Source:- the gurdian]