Temperature of U.S. Economy Running Cooler Than Forecast
While President Donald Trump is looking for some "very good numbers" on U.S. growth shortly, the economic data of late have fallen short of economists' forecasts.
The Bloomberg U.S. Economic Surprise Index, which measures whether incoming economic data beat or miss expectations of surveyed economists, fell below zero Thursday for the first time this year to the lowest point since just after last November's election. Economists, though, still project a pickup in second-quarter growth.
Since the election, businesses and consumers have evinced confidence that the new administration would bolster the economy with less regulation, lower taxes and spending on infrastructure. While there has been some reduction in rules, Congress has yet to act on major programs to cut taxes or spend on airports or highways.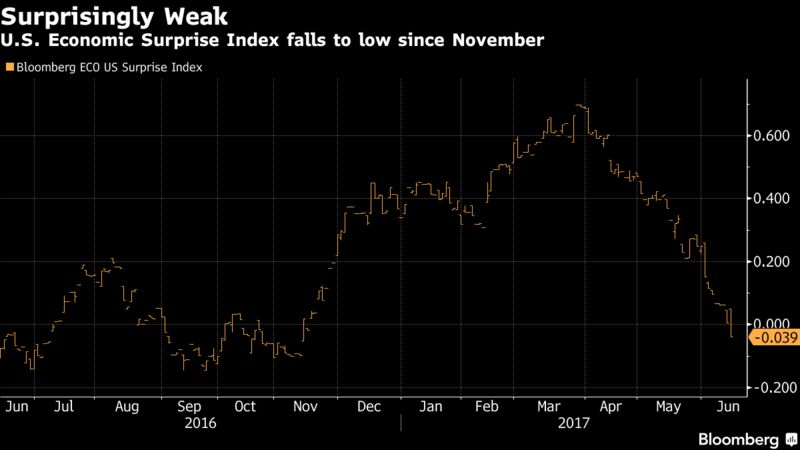 "Economic surprise indexes give you some kind of clue whether the economy is gaining momentum or losing momentum," said Mark Vitner, a senior economist at Wells Fargo Securities LLC in Charlotte, North Carolina. "Folks were expecting too much too soon."
Among the reports released this month, data on employment, auto purchases, durable goods orders, consumer prices and retail sales have all come in below economists' expectations.
Vitner said some seasonal distortions, including the timing of Easter, may have contributed to the weak reports, with falling motor vehicle sales being the most significant of the disappointments.
The Federal Reserve on Wednesday raised interest rates by a quarter point, which "reflects the progress the economy has made and is expected to make," Chair Janet Yellen said at a press conference following the policy makers' meeting. "Economic growth appears to have rebounded, resulting in a moderate pace of growth so far this year."
Second-quarter growth — not yet reported — is probably accelerating. The Atlanta Fed's tracking of incoming data suggests an increase in gross domestic product of around 3.2 percent, as of Thursday. That's a big  improvement over the first quarter's 1.2 percent, though the bank's researchers have lowered their estimate from more than 4 percent.
Trump weighed in Thursday on the economy: "I think some very good numbers are going to be announced, by the way, in the very near future, as to GDP," he said.  On July 28, the Commerce Department issues its first estimate of the economy's performance in the second quarter.
For now, though, the U.S. is showing the weakest data relative to expectations of any region in the Citigroup Economic Surprise Indices.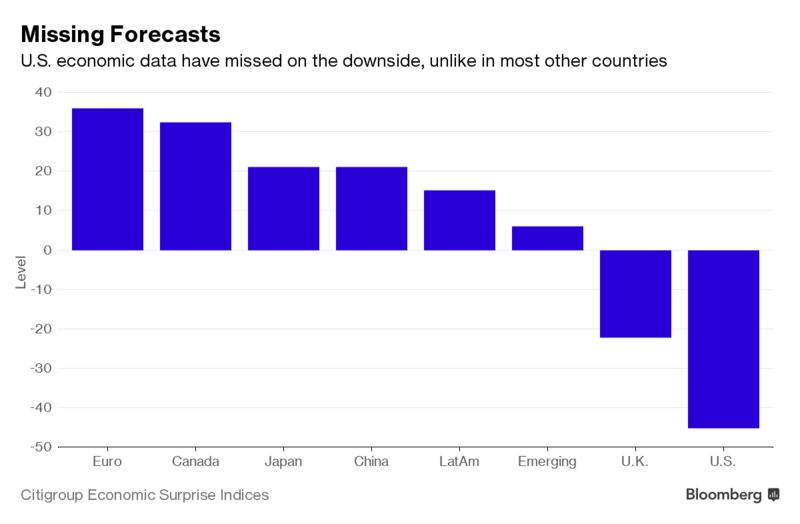 That may in part reflect that global growth — disappointing for most of the U.S. expansion that started in June 2009 — has turned up. The International Monetary Fund in April raised its forecast for global growth to 3.5 percent this year, up 0.1 percentage point from January.
[Source"indianexpress"]