Treasury sells £500m of Lloyds shares to take taxpayer stake below 20%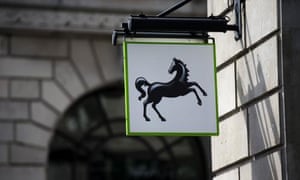 The government has cut its stake in Lloyds Banking Group to less than 20%, taking the amount returned from the bailed-out bank to the taxpayer to more than £10bn.
The Treasury said it sold £500m of Lloyds shares to reduce its holding by a percentage point to 19.93%. The sale was made under a trading plan set up in December to gradually sell shares.
The shares were sold for more than the average price paid for the government's stake, which was 73.6p. The government has sold more than £2.5bn of shares under the trading plan to reduce its stake from 24.9% when the plan was announced.
Taxpayers were left owning 43% of Lloyds after the government rescued the bank at the peak of the financial crisis in 2008-09. The government has been selling shares since September 2013 after the company's financial performance recovered.
The chancellor, George Osborne, said: "I'm delighted that we've now raised over £10bn from selling our shares in Lloyds Bank. This means we have recovered over half of the taxpayers' money put into Lloyds and now own less than 20% of the bank."
Osborne said in his budget that he intended to sell at least £9bn of Lloyds shares this financial year. The trading plan is set to close by the end of June.
Lloyds announced in February that it would pay a dividend for the first time since the government bailout, increasing the appeal of its shares. Underlying profit rose 26% to £7.8bn last year as the bank cut costs and bad debts fell.
A Lloyds spokesperson said: "Today's announcement shows the further progress made in returning Lloyds Banking Group to full private ownership and enabling the taxpayer to get their money back. This reflects the hard work undertaken over the last four years to transform the group into a simple, low-risk and customer-focused bank."
["source-theguardian.com"]