Australia's banks have 10% loans in risky fossil fuels, says investment adviser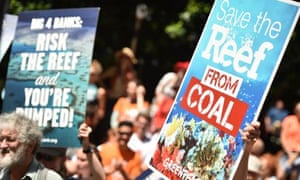 Australia's largest banks have committed about 10% of their known loan arrangements to the financing of risky fossil fuel projects that may become "stranded" if the world is to avoid disastrous climate change, new research has estimated.
The study by investment research firm MSCI found that the "big four" banks – Commonwealth Bank, Westpac, ANZ and NAB – have about 10% of their total syndicated loan books allocated to borrowers involved in coal, oil and gas projects.
This exposure to fossil fuel lending has increased by 64% since 2012 and suggests that Australia's major banks are increasing their involvement in emissions-intensive industries at a time when banks around the world are pulling away, MSCI said.
Fossil fuel assets can become "stranded" if investments are superseded by technological change or if governments intervene to ensure the Earth doesn't warm beyond 2C – a guardrail that 193 of the world's nations have signed up to.
The research emerged as climate activists launched a fresh wave of protests aimed at the Commonwealth Bank, Australia's largest bank, both domestically and abroad. The activists want the Commonwealth Bank to distance itself from huge mining projects in Queensland's Galilee Basin, which would ship large volumes of coal for export via the Great Barrier Reef.
MSCI's report states that the number of environmental "controversies" – which it classes as protest action or investigations into pollution – has leapt by 40% since 2011. Coal and gas firms such as Santos, Rio Tinto and Whitehaven Coal have been the major targets for protest action.
Emily Chew, senior analyst at MSCI, said some companies were undertaking "fire sales" of assets deemed at risk of becoming stranded.
Advertisement
"Australian banks do have strong environmental and risk management policies, the questions is are these being implemented given this trend in syndicated lending?" she said. "Their exposure to these potentially stranded assets has gone up while other banks have wound back their exposure.
"Globally, the sentiment around climate for investors and regulators is switching to lower carbon, greener, cleaner economy. The writing is on the wall for fossil fuel companies from the investment community."
At least 11 international banks have ruled out financing the Galilee Basin mines, while a further bank, Standard Chartered, has said it will review its involvement with Adani's Carmichael project. The $16.5bn development is due to begin in 2017 and will, at capacity, dig up and export 60m tonnes of coal a year.
Climate group 350.org has been staging protests at more than 50 branches of Commonwealth Bank this week, in Australia and also overseas outposts of the bank in New York, London, Paris and Tokyo.
On Wednesday morning, about 50 activists occupied the first floor of the Commonwealth Bank branch on Bourke Street in Melbourne, where they unfurled banners criticising the potential financing of the Galilee Basin mines and the associated Abbot Point port, which lies adjacent to the Great Barrier Reef.
"We know Commonwealth Bank are advising Adani so the ultimate objective is for the bank to rule this project out," said Charlie Wood, campaigns director at 350.org. "Banks overseas have already taken this step so it's time for Australian banks to take some leadership on climate change and fossil fuels."
The global divestment movement notched up another minor victory this week when the University of Oxford ruled out future investment in coal and tar sands, although it will not divest from all fossil fuels.
However, the mining industry in Australia is critical of the push to halt the Galilee Basin mines. Greg Lane, acting chief executive of the Queensland Resources Council, said the anti-fossil fuels campaign was "simplistic."
"As well as potentially damaging Queensland's economy, this anti-fossil fuel push would ironically have no effect on global carbon emissions, and might even make things worse," he said.
"Australia's coal is amongst the highest quality in the world, and extracted under some of the tightest environmental regulation.
"If coal-importing nations like India had to seek alternative suppliers such as Indonesia or South Africa the outcome will only result in higher emissions."
Steven Munchenberg, chief executive of the Australian Bankers Association, defended the banks, saying that they "invest a lot in reducing their carbon footprint and when making investment decisions they consider a range of environmental, social and political risks.
"While fossil fuels are a major source of jobs and income for Australia and a big part of our energy mix, banks are aware of evolving community attitudes and would be carefully monitoring Australian government discussions with international counterparts on climate change issues."
["source-theguardian.com"]