Factory Activity Shrinks Most In Nine Years On GST Confusion: Survey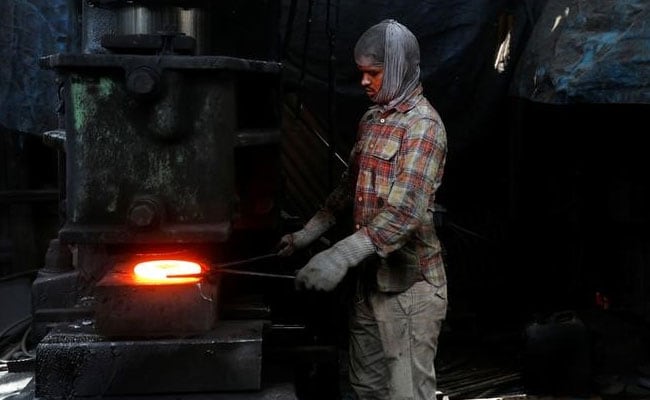 New Delhi/Bengaluru:
India's factory activity slumped to its lowest level in more than nine years in July, a private survey showed on Tuesday, dragged down by disruptions to business activity following the launch of a new national sales tax.
The Nikkei/IHS Markit Manufacturing Purchasing Managers' Index (PMI) unexpectedly fell to 47.9 in July from 50.9 a month earlier.
It was the first time the reading has dropped below the 50 mark that separates growth from contraction since December and was its lowest reading since February 2009.
Analysts polled by Reuters had expected only a marginal easing in the growth rate.
July also marked the biggest month-on-month decline since November 2008, just after the collapse of Lehman Brothers triggered the global financial crisis.
The figures came a day before the conclusion of the Reserve Bank of India's (RBI) rate setting meeting. The central bank's monetary policy committee is widely expected to cut the policy repo rate by 25 basis points to a more than 6-1/2 year low.
Although the monetary policy panel is under pressure from the government and investors to do more to spur economic growth, it is not expected to read too much into Tuesday's PMI findings as the disruption from the rollout of the nationwide Goods and Services Tax (GST) is not expected to last for long.
"One month's data alone wouldn't have a significant bearing," said Shilan Shah, India economist with Capital Economics. "We expect conditions to improve as firms get familiar with the new system."
DISRUPTION
The GST came into effect on July 1. It is India's most ambitious tax overhaul in 70 years and is meant to unify the $2 trillion economy into a customs union.
Ambiguous rules and a multi-rate tax structure, however, have left firms confused on how to price their products, hurting sales.
While some businesses have protested against the new sales tax, many are struggling with the new compliance requirements that require them to file at least three returns every month.
Some companies see the disruptions lasting until December, which could dent near-term growth.
Asia's third-largest economy grew 6.1 percent in January-March – fast by global standards but its slowest in over two years.
"I would think even August will also show lower than expected PMI because it will take time for businesses to adjust to the change in the tax system," said Larsen & Toubro's chief financial officer, R. Shankar Raman.
An output sub-index fell to 46.3, its lowest since early 2009, from 51.7 in June. There was also a contraction in new orders.
["source-profit.ndtv"]