Global collaboration needed on 'bad actor' rules, says HSBC legal chief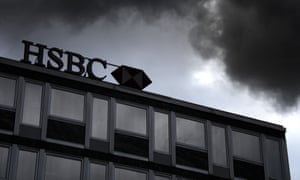 More needs to be done to combat financial crime, a senior lawyer at HSBC has said as he called for global collaboration over the rules imposed on banks to keep "bad actors" out of the financial system.
Stuart Levey, HSBC's chief legal officer, said worldwide agreement over the rules would reduce the risk that banks refuse to do business with legitimate customers for fear of being punished by regulators.
A former official at the US Treasury, Levey told a conference in Geneva: "Put simply, the way we do financial crime compliance is outdated. It is neither as efficient nor effective as it could be at protecting the financial system from abuse and preventing financial crime.
"There are two countervailing forces that provide us with a real opportunity to drive forward meaningful change in this area. On one hand there is a deepened policy and political commitment to combat financial crime and preserve the integrity of the financial system. On the other, there is the growing policy concern about the unintended consequence of financial exclusion that is resulting from robust pursuit of these objectives without great enough precision."
Levey, in his first speech since joining HSBC four years ago, said governments and private sectors were using their own financial data to try to combat crime but were not working together . He called for the Financial Action Task Force – an intergovernmental organisation – to create global roles allowing legal protections when information is shared and ensure that secrecy and privacy laws do not stop information being shared.
HSBC has been battling to restore its reputation after it was fined £1.2bn by the US authorities in 2012 for breaches of money laundering rules and it has since emerged that George Osborne, the then chancellor, intervened to argue that prosecuting Britain's biggest bank could lead to a "global financial disaster". It has also been embroiled in revelations, in the Guardian and other publications, thatits Swiss arm helped customers avoid tax.
Levey said rules to combat financial crime had unintended consequences such as banks "de-risking" – pulling out of countries or business sectors. "De-risking is being applied more and more widely as an alternative to managing risk. There are various reasons for that: the basic desire of reputable financial institutions not to facilitate illicit conduct, the challenge of identifying the individual bad actors, a weighing of the commercial benefit verses the cost of compliance and, of course, fear of enforcement," said Levey.
"There is a heightened imperative to keep bad actors out of the financial system in order to promote security and also an imperative as a matter of economic policy to mitigate the unintended consequences of our efforts. If we do not collaborate better, we risk being one step behind in our efforts to keep illicit actors out of the system while also exacerbating the problem of financial exclusion."
Banks, including HSBC, have been facing scrutiny of the way they have pulled back from a range of services to countries such as Somalia and individuals, such as MPs.
Earlier this year, Levey criticised the US for asking European banks to do more business with Iran while Washington was restricting American financial firms from doing the same. In his speech on Monday he said he said that the sanctions against Iran – imposed in 2006 and lifted this year – had worked, leaving the country isolated and affecting its economy.
[Source:- The Gurdian]