Iceland to lift capital controls to help boost economy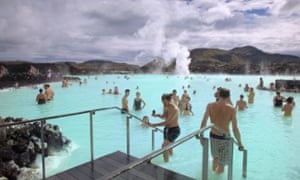 Iceland will impose a tax on creditors seeking to reclaim assets from the country's failed banks, as it unwinds capital controls imposed at the height of the financial crisis in 2008.
In an attempt to prevent foreign investors rushing en-masse to withdraw billions currently frozen in Iceland's financial system, withdrawals will be subject to a 39% tax.
"Today is a milestone, a very happy milestone," Iceland's finance minister Bjarni Benediktsson said. The government, he said, was "tackling a cloud in the economic sky in Iceland" and laying foundations for better living conditions and economic growth.
"I expect we will see a complete change of the landscape in 6-12 months," he told the Guardian.
Currently, Icelandic pension funds are unable to invest abroad and access to foreign currency for holidays is tightly controlled.
Capital controls were introduced in November 2008 after the failure of the Icelandic banking system brought the country to the brink of financial meltdown. The three largest banks – Glitnir, Landsbanki and Kaupthing – collapsed in October 2008, having amassed assets worth 10 times more than Iceland's annual economic output.
The government hopes ending the controls will allow the country to draw a line under the financial crisis, which poisoned relations with European neighbours.
It fell out with the UK and the Netherlands over bank guarantees given to British and Dutch savers who had ploughed money into Icesave, part of Landsbanki's international banking operations.
After Landsbanki collapsed and its guarantees proved worthless, the British and Dutch governments had to use their own taxpayer funds to compensate ordinary savers, triggering a rancorous four-year legal dispute.
However, 85% of UK claims have now been repaid. Iceland's finance minister Benediktsson said he expected all UK claims to be settled by the end of the year.
Iceland's economy is now growing again, boosted by tourism and the fishing industry. The International Monetary Fund said in March that the government had made good progress in improving financial stability but gaps remained in banking supervision and financial safety nets.
On Sunday, Iceland's parliament voted 56-0, with one abstention, in favour of a plan seen as paving the way for the end of capital controls. Although the measures tighten controls on some transactions related to failed banks, they are intended to stop people circumventing the controls before they are finally lifted.
Capital controls were imposed on the advice of the International Monetary Fund, which provided Iceland with a $2.1bn (£1.4bn) loan at the height of the financial crisis to stave off economic collapse.
The controls, introduced to protect the krona, were intended to expire after six months but have been in place for more than six years. They quickly became a headache for the centre-right government, which was elected in April 2013, on a promise of ending austerity and bringing debt relief to households.
The Icelandic authorities are keen to ensure capital controls do not become a permanent fixture, because they deter foreign investment and increase borrowing costs. But lifting them too quickly could jeopardise the country's fragile economic recovery.
Around 1,200 billion Icelandic krona are frozen as a result of capital controls, the equivalent of $9bn or £8.5bn, although currency controls mean there is no precise exchange rate.
If investors decided to withdraw their money en-masse, Iceland could be plunged into a balance-of-payments crisis, sparking a wave of bankruptcies and cash-flow problems.
"There is not sufficient foreign currency to release 1,200bn [krona] in foreign currency," said Benedikt Gíslason, an advisor to the government on capital controls. "The Icelandic economy would not survive."
Critics have argued that Iceland could become embroiled in years of legal wrangling over the tax plans, but Benediktsson said he thought legal challenges were unlikely. "It would not be in the Icelandic interests to be dragged into a long legal battle, but if it is challenged we will defend it."
The government expects to raise 850bn Icelandic krona from the tax, which will be levied in April 2016.
Investors in Icelandic assets could also reinvest their capital in newer government debt that will be convertible out of crowns at maturity.
["source-theguardian.com"]