Lidl shake-up brewing in Australia's supermarket sector
Camera crews have taken Aussies inside Lidl for a first look at the German discount supermarket giant set to take over Down Under later this year.
Far from the supermarket war between local chains Coles and Woolworths, A Current Affair browsed the aisles of one of Lidl's 600 stores across the UK.
Inside, you could be forgiven for thinking you were inside an Aldi supermarket – both chains feature similar layouts, floor plans, price tags and checkouts.
The German newcomer is expected to provide a dramatic shake-up to the Australian supermarket industry and be the first legitimate challenge to Aldi.
The two discount supermarket stores have in common one of the most common gripes of their customers: at both you have to purchase your own shopping bags or carrying your groceries in your hands.
Lidl will arrive in Australia with strong credentials, last week named Grocer of the Year at the prestigious Grocer's Gold Awards in London and last year having its parent company labelled by Deloitte as the fourth largest global retailer, four spots higher than Aldi.
A Current Affair followed busy mother of two, Kate Diaz, as she went about her weekly grocery shop at a Lidl store in London.
"I filled my whole trolley today for around £53, which is about $100 Aussie dollars," Ms Diaz said.
"If you want to save money at the supermarket, you're going to love Lidl," she said.
"You can get quality products for amazing prices."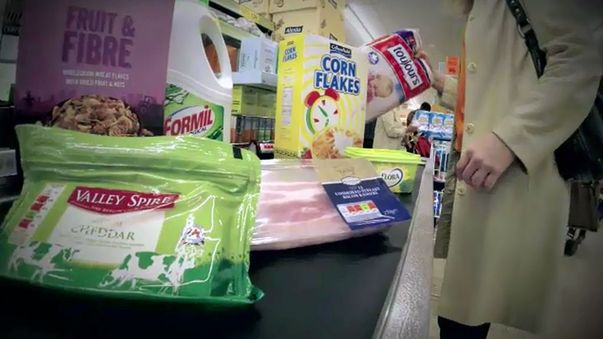 A selection of Lidl's store brands are visible at this check-out at one of the chain's London supermarkets (Source: A Current Affair)
One example she cited of cost savings was bread – which she purchased for 28 pence (approximately 56 cents in Australia).
Another is pasta, which Ms Diaz purchased for the same price as the bread.
Speaking with two other shoppers outside the same London Lidl supermarket, A Current Affair asked shoppers how they thought the chain would fare in Australia.
"I think Australians will like Lidl, the prices are really reasonable," one female shopper said.
"Australians, you're going to love Lidl – it's very good," an older gentleman said.
When one shopper was asked if she shopped at Aldi, she responded, "No, I prefer Lidl."
This level of excitement for a new grocery player is something Australia saw in 2001, when Aldi opened their first store on our shores.
In 14 years, the company has expanded to almost 300 stores on the Australian east coast – and are set to open its doors in South Australia and Western Australia by the end of this year.
Choice magazine announced two weeks ago that Aldi had retained its crown as the cheapest supermarket.
From the A Current Affair archive, a story from January 2001 about Aldi's arrival as a major player in Australia's supermarket sector.
"What we've found is that if you shop at Aldi and buy leading brands, you can save 50 percent off your weekly grocery bill," Choice spokesperson Tom Godrey told A Current Affair.
Choice is just one among many groups voicing their eagerness for another supermarket shake-up, ahead of Lidl's Australian launch later this year.
"Lidl is going to make a big difference in competition in the supermarket sector," Godfrey said.
"With Lidl coming into the marketplace, Aldi will have to ask itself why is it going to be the choice for consumers – so if that means they're going to have to compete harder, we'd welcome that."
Marketing expert Colin McLeod is also excited to see how Lidl shake up the supermarket sector.
"They have bigger stores, more products, more customer service," McLeod said.
"I think Aldi will be concerned," he said.
Lidl executives are currently in Australia scouting for locations for their first stores here.
They won't confirm where their first location will be, but industry insiders say they will most likely be opening their doors in Melbourne by the end of the year.
["source – 9news.com.au"]