News workers unionized. Days later, they were jobless. Was it payback?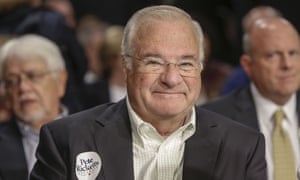 A billionaire's decision last week to shutter the news sites Gothamist and DNAInfo, just a week after employees voted to unionise, seemed to mark another low for unions in online media age.
Owner Joe Ricketts seemed to be making good on threats to pull the plug on his publications if workers joined a union. But in a public statement, Ricketts – a Donald Trump backer and founder of the discount stock brokerage TD Ameritrade – said the decision was purely financial.
The company, he said, "is, at the end of the day, a business, and businesses need to be economically successful if they are to endure".
He added that while "important progress" had been made, "that progress hasn't been sufficient to support the tremendous effort and expense needed to produce the type of journalism on which the company was founded."
The decision to close New York-based Gothamist, DNAinfo, and sibling sites in Washington, DC, Chicago, Los Angeles, San Francisco, and Shanghai left 116 journalists, salespeople and developers out of work. The Writers Guild of America East, which the staff had voted to join only days before, said in a statement posted on Twitter that it was "deeply concerned" about the decision to close the publications: "It is no secret that threats were made to these workers during the organizing drive."
It is believed that Ricketts lost money throughout his involvement with local news sites, a once-profitable sector hard hit by falling advertising rates. Established brands, including the New York Times and the Wall Street Journal, have reduced their metro commitments or closed local-focused sections as revenues have dwindled. Some publications, including the Village Voice, have closed print editions; others, like the New York Sun, have ceased to publish entirely.
Early bets in the online local news sector, including Patch.com, a local news property founded by AOL chief executive Tim Armstrong in 2007, survive as trim, independent operations.
In a blog post last month, Ricketts argued that unions "promote a corrosive us-against-them dynamic that destroys the esprit de corps businesses need to succeed" that "makes no sense … where an entrepreneur is staking his capital on a business that is providing jobs and promoting innovation".
But Tim Schick, administrative director of NewsGuild-CWA, says unionization doesnt have to come with a huge cost to the employer. "They fight it tooth and nail because it means they have to sit down with workers to talk about wages and benefits."
Schick, whose organization represents US workers at The Guardian, believes that in such negotiations bargaining, trade offs and solutions often come from employees.
"Because worker voice through unionization reduces absolute control, the business owners tend to fight it off rather than embrace it," he said. "It's their fear and philosophical opposition to employees unionizing, so they fight it rather than sitting down, working out what the issues are, and finding solutions."
Union representation has not always protected online news workers – in June, Huffpost laid off 39 staffers represented by the Writers Guild of America East.
Nonetheless, the trend toward representation is clear. Since mid-2015, staff at Vice, Fusion, The Root, Salon, Daily Beast, MTV News, ThinkProgress, Jacobin, The Intercept, Thrillist, Slate, and the now-shuttered Gawker have all chosen WGAE or NewsGuild representation.