Reserve Bank of Australia: RBA cuts interest rates to 2% – as it happened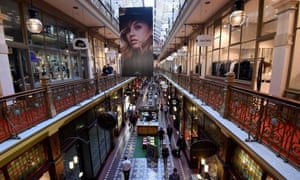 The blog is about to be over as well. But it's been a very eventful afternoon with another big move by the RBA, which is still worried that the Australian economy is weak and needs a bit of help. The main developments are:
The cash rate has been cut to 2% from 2,25%. It has never been lower.
RBA governor Glenn Stevens thinks there is still 'spare capacity' in the economy and with inflation low and stable, he saw the chance for another cut.
The dollar has seen some volatility since the news at 2.30pm. It fell initially, as usual after a cut, but then spiked to US79c as investors spotted an end to the easing bias in Stevens' statement. It's fallen back a bit since though.
Stevens again played down fears that a cut will fuel the already rampant Sydney housing market. He'll work with other regulators to contain risks, he said.
Mortgage holders will be better off if the banks pass on the cut, boosting spending power throughout the economy.
Bad news for saver but Joe Hockey has as a result ruled out tax rises on super in the budget
ASX200 share index closed flat.
And that's it. Thanks for joining us. Have a good evening.
["source-theguardian.com"]