Students killed in Berkeley balcony collapse mourned in Ireland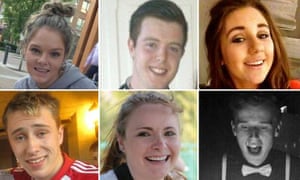 Flags are flying at half-mast across Ireland for the Irish students who were killed in a balcony collapse in California, as it emerged that two of the dead were cousins.
Families of the five Irish citizens have begun arriving at the scene of the tragedy, at the Berkeley campus of the University of California. Thirteen people are believed to have been on the fourth-floor balcony when it collapsed during a birthday party early on Tuesday morning.
A sixth student from California, who held joint US-Irish citizenship, was also killed; seven others were injured.
Ireland's prime minister said the tragedy had resonated with every family, and parents especially, across Ireland.
Speaking in the Dail (Irish parliament), the taoiseach said: "When you look at the newspapers this morning, don't you see the photographs of your own children?"
Kenny then read the names of the six young people who died into the Dáil record as a memorial to them.
He also told the Dail that he was sending Ireland's minister for the diaspora, Jimmy Deenihan, to San Francisco as soon as possible as a gesture of solidarity to bereaved families and the injured.
A safety expert in Berkeley said those attending the birthday party were "packed like sardines" on the balcony. The city of Berkeley said it had ordered the property owner to immediately remove the collapsed balcony and to perform a structural assessment of the remaining balconies within 48 hours.
Grace Kang, a structural engineer and spokeswoman for Pacific Earthquake Engineering Research Center at Berkeley, said the balcony's dimensions looked to her to be 4ft by 6ft.
Workmen examine the damage at the scene of the balcony collapse in Berkeley. Facebook Twitter Pinterest
Workmen examine the damage at the scene of the balcony collapse in Berkeley. Photograph: Elijah Nouvelage/Reuters
That would mean the balcony should hold at least 1,440 pounds (653kg) – a total that likely would have been exceeded by 13 adults, she said.
"They were packed like sardines, and then they were moving," Kang said. When people are moving on the structure it "may further exacerbate" the strain.
Kang pointed out that the Library Gardens apartment house was a wood-frame construction, and the balcony was cantilevered out from the building, with no additional support beneath. Both can make a balcony more vulnerable to dry rot and weathering in general, she said.
The dead were named as Olivia Burke, 21; Eoghan Culligan, 21; Niccolai Schuster, 21; Lorcán Miller, 21; and 21-year-old Eimear Walsh – all Irish citizens studying at the University of California on J1 visas – and Ashley Donohoe, 22, from Rohnert Park, California. Burke and Donohoe were first cousins.
The area where the accident took place is traditionally popular with Irish students, whose specialist visas allow them to work legally in the US over the summer.
At the Church of Our Lady in Foxrock in South County Dublin, a vigil was held on Tuesday night for parishioners Walsh and Burke.
Fr Frank Herron, the parish priest, said: "The tragedy is that they were heading out full of life and full of the joys of summer, they had the whole summer to look forward to and it's the last thing anybody would be expecting that something like this would happen," he said.
"I was talking to one of the families whom I know well and they of course are distraught," he added.
In South Dublin a former headteacher of Lorcán Miller described him as "a sportsman and he was an academic but above all he was an exceptionally lovely young man".
Meanwhile counselling services have been set up at University College Dublin, where three of those killed in the accident were students. Flags will also be flown at half-mast around the South Dublin campus on Wednesday.
Marcus O'Halloran, president of UCD's student services said: "I would just like to reiterate to all the students at home and abroad that UCD students are here for them. We have a number of services, we have a welfare services and advisory service, we have a 24-hour hotline here at the moment."
A Gaelic football club in Dublin where Eoghan Culligan was a player paid a warm tribute to the young student.
In a statement on the club's website, it said: "It is with great regret and sadness that we inform you that Ballyboden St Enda's member Eoghan Culligan was one of the six people who tragically lost their lives in Berkeley, California.
"Eoghan has been a member of Ballyboden St Enda's since childhood and was part of the Minor A championship team that were beaten by Castleknock GAA in the county final of 2011. He continued to play football with both the intermediate and junior teams.
"Eoghan was very popular with his team-mates and this tragic news is keenly felt by all members of our club, but especially by those players and mentors who knew him well."
The mother of one Irish student who was out celebrating the same 21st birthday has spoken of her relief that he did not go back to the apartment where the balcony collapsed. Ann Travers' son Conor knew several of the victims and was drinking with them in the bars of Berkeley, but did not go with them to the apartment.
Travers said she would give Conor "the biggest hug of his life" when he returned from California to her home in Co Wicklow.
"Yesterday afternoon was the worse experience of my life," she said. "My family and I never want to go through it again. I eventually heard Conor was safe through a friend of his, who sent a message to my eldest son. Conor then sent me a brief message after about a further hour's wait.
"I managed to speak properly to him late last night. He had been out celebrating but was not in the apartment when the tragedy happened. He knows two of the young men who passed away and two of the injured. His thoughts are with the friends and families of the deceased and injured. He rightly says this isn't about him and he is in deep shock. He says everyone over there is."
"This morning my heart is bursting for all of the families affected and for all the young people still on their J1's who are dealing with this shock, far away from home and I'm looking forward to giving my son the biggest hug of his life when he returns home."
Meanwhile, two of the Irish students injured in the accident are said to be in a critical condition, with one young man suffering injuries including a broken back and smashed legs.
Ireland's foreign minister Charles Flanagan said on Wednesday that extra diplomatic staff have been deployed from other parts of North America to help provide support for the families of the dead and injured arriving in San Francisco.
Flanagan said: "Two officers from Embassy Washington have arrived in San Francisco to provide further support to the consulate team today, while our consulates in New York and Boston are on standby to assist families travelling via those cities.
"Family members of the deceased and injured are travelling to San Francisco today, where they will be met on arrival by a team from our consulate in San Francisco. A consular team from my department provided support to them at Dublin airport before they travelled."
Since news of the accident broke, Flanagan said his department had received more than 500 calls from anxious parents and family members about their loved ones working and studying in the San Francisco Bay area.
The lord mayor of Dublin, Christy Burke, has opened up a book of condolence at his residence, the Mansion House in the Irish capital, from 10am on Wednesday.
"It will be a chance for the people of Dublin to express their sympathies to the families involved," Burke said.
The American ambassador to Ireland, Kevin O'Malley, said on Wednesday that his embassy has made all the resources available to the Irish government to enable families to travel to the west coast, and that he has been in touch with Flanagan and the taioseach, Enda Kenny.
Kenny said: "My heart breaks for the parents who lost children and I can only imagine the fear in the hearts of other parents."
["source-theguardian.com"]