Asian Shares Fall As North Korea Moots Hydrogen Bomb Test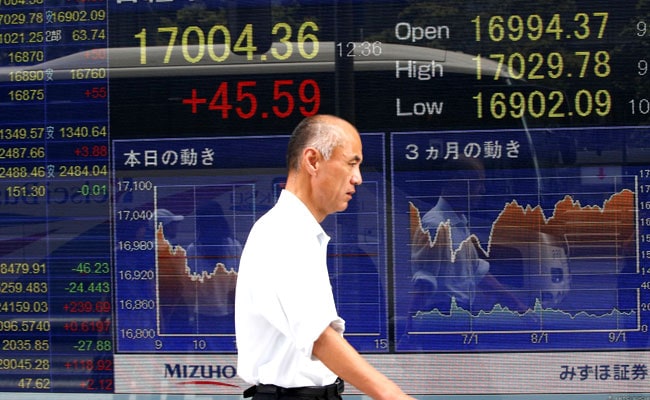 Tokyo: Asian stocks fell and the Japanese yen and Swiss franc gained on the mooted possibility of North Korea conducting another hydrogen bomb test, this time in the Pacific Ocean. North Korean Foreign Minister Ri Yong Ho said on Friday he believes the North could consider a nuclear test on an "unprecedented scale" in the Pacific Ocean, South Korea's Yonhap news agency reported. MSCI's broadest index of Asia-Pacific shares outside Japan handed back earlier gains and was down 0.4 per cent after falling 0.7 per cent the previous day.
The index had risen to a decade high on Tuesday, lifted as Wall Street advanced to record levels before faling back after the Fed heightened expectations for a third interest rate hike this year.
Japan's Nikkei slipped 0.2 per cent and Australian stocks advanced 0.2 per cent. South Korea's KOSPI fell 0.5 per cent on the latest bout of geopolitical tensions.
Shanghai was down 0.5 per cent after S&P Global Ratings downgraded China's long-term sovereign credit rating on Thursday, less than a month ahead of one of the country's most sensitive political gatherings, citing increasing risks from its rapid debt build-up.
The dollar fell 0.3 per cent to 112.140 yen, pulling away from a two-month high of touched on Thursday 112.725 when US yields spiked on the back of the Fed's hawkish stance.
The Swiss franc rose 0.2 per cent to 0.9687 franc per dollar. The yen and franc are often sought in time of broader risk aversion.
Safe-haven gold ticked up, with spot prices up 0.2 per cent at $1,293.70 an ounce, after marking its lowest since August 25 at $1287.61 in the previous session on a firmer dollar.
Apart from geopolitical risks, the focus was on how the region's markets would fare when the Federal Reserve takes a step towards normalising monetary policy, as it projected on Wednesday following its policy meeting.
"It is difficult to pass a verdict on the Fed's stance until it actually starts its balance sheet reduction and the markets can gauge its effects," said Kota Hirayama, senior economist at SMBC Nikko Securities in Tokyo.
"Fundamentals continue to support emerging markets including those in Asia, although the Fed's latest stance did add a layer of uncertainty going forward."
The S&P 500 lost 0.3 per cent, snapping a four-day winning streak.
The Dow fell 0.25 per cent and Nasdaq dropped 0.5 per cent on Thursday as the US equity market braced for a third interest rate hike this year. The United States ordering new sanctions against North Korea was also seen to have weighed on Wall Street.
In currencies, the Australian dollar was down 0.2 per cent at $0.7917 after sliding 1.2 per cent the previous day.
The Aussie was hurt on Thursday when Reserve Bank of Australia Governor Philip Lowe said that the central bank does not have to follow a general move globally to raise interest rates.
A sharp drop in the price of iron ore, Australia's main export commodity, to a two-month low, has also weighed on the currency.
The euro inched up 0.1 per cent to $1.1954 and on track to end the week 0.8 per cent lower.
The dollar index against a basket of six major currencies was down 0.2 per cent at 92.052.
Crude oil prices were little changed amid a wait-and-see mood as ministers from the Organization of the Petroleum Exporting Countries, Russia and other producers meet later on Friday to discuss a possible extension of the 1.8 million barrels per day (bpd) of supply cuts to support prices.
While many analysts expect an extension of the deal beyond next March, a number of them noted that prices have risen high enough to tempt countries to boost production above agreed levels.
Brent crude was down 0.1 per cent at $56.37 a barrel after reaching a five-month high of $56.53 overnight.
["source=hindustantimes"]