Sensex Gains for Fourth Day; SBI, ICICI Bank Surge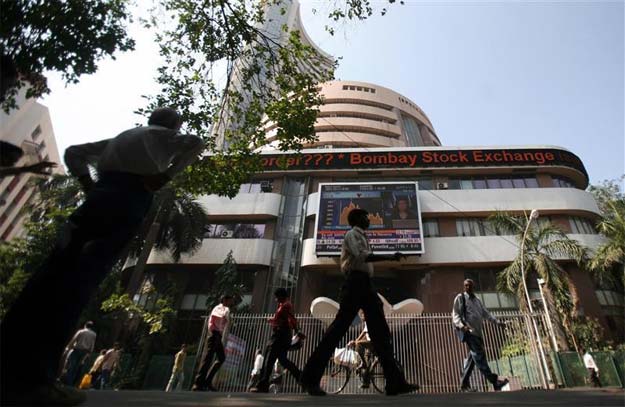 Markets end higher for the fourth day. Sensex edges higher by 72 points to 28,187 while Nifty adds 10 points to settle at 8543.
The Sensex and Nifty ended higher for the fourth day in a row, with SBI and ICICI Bank leading a rally in banking stocks. ICICI Bank said on Friday it saw the rate of new troubled loans slowing as the nation's biggest private sector lender by assets reported a better-than-expected quarterly profit.
Public sector banks extended their Friday gains after the government unveiled a 4-year, Rs 70,000 crore capital infusion plan.
Bank of Baroda and SBI surged over 4 per cent while ICICI Bank rose 3.5 per cent. Among other major gainers, Maruti Suzuki rose over 2 per cent on strong July sales numbers.
Among Nifty losers, HCL Tech fell nearly 6 per cent after the outsourcer reported a decline in its EBIT or operating margin for the June quarter.
3:24 p.m.  Jay Thakkar of Sharekhan: Nifty has resistance at 8,660 and if it is crossed, the index could rise to 8800 levels
3:20 p.m. Jay Thakkar, senior technical analyst at Sharekhan: Till 8315 is not broken, there is strong possibility of Nifty moving up to 8650 levels and later 8800 levels.
3:03 p.m. Like cement, paint, passenger vehicle space and select midcap IT stocks: Nipun Mehta.
3:02 p.m. Wary on commercial vehicle space but like the passenger vehicle space, says Nipun Mehta.
3: 01 p.m. Market analyst Nipun Mehta says market momentum remains strong and Nifty may rise to 8700 to 8800 this month.
2:55 p.m. North America market looking strong while domestic market is also looking up, Baba Kalyani, chairman & MD of Bharat Forge, told NDTV.
2:45 p.m. Bharat Forge shares up 2.7 per cent. The company Monday reported a 34.8 per cent increase in net profit to Rs 195.4 crore for the April-June period compared to Rs 145 crore during the same period last year. Bharat Forge's net profit for the first quarter beat Bloomberg estimates that had pegged it Rs 191 crore. (Read)
2:20 p.m. Broader market check-up: Gains are pretty broad-based, with the BSE midcap index hitting a record high for a second consecutive session at 11,392.69. The BSE midcap index was up 0.73 per cent while smallcap index rose over 1 per cent.
1:30 p.m. Banking stocks continue to trade firm. SBI and Bank of Baroda gain 4-5 per cent while ICICI Bank up nearly 3 per cent. Other gainers include Maruti Suzuki and ITC, which are up over 2 per cent.
1:21 p.m. BSE Sensex and Nifty turn flat in afternoon trade on some selling in metal, capital goods and oil & gas stocks.
1:07 p.m. Deven Choksey, MD of KR Choksey Securities, on L&T: It should not be looked from a quarterly point of view. It should be looked at from a horizon of 2-3 years. L&T will be a major beneficiary of a turnaround in the economy. Buy the stock on dips.
12:40 p.m. Deven Choksey, MD of KR Choksey Securities, has a word of caution on PSU banking stocks: Be selective. Largecap PSU banking stocks are better poised than midcap ones, he added.
12:30 p.m.  Hero MotoCorp shares fell as much as 3 per cent to intraday low of Rs 2,604.15 on Monday as its sales declined for the month of July. Hero MotoCorp reported a 8 per cent annual decline in its sales at 4,87,580 units for the month of July.
12:10 p.m. Sun TV shares have been on rollercoaster ride, but the last few days have been really good for the media conglomerate. Shares in the Kalanithi Maran-owned Sun TV jumped as much as 18 per cent on Monday, taking the gains in the last eight sessions to 54 per cent.
(Read: Why Sun TV Shares Are Up 50% in 8 Sessions)
11:30 a.m. Stock update: L&T shares down 1.5 per cent after falling nearly 5 per cent in early trade. L&T shares fell on Monday as the engineering and construction conglomerate missed profit estimates in the June quarter. Q1 net profit dropped 37 per cent year-on-year to Rs 606 crore, though net sales rose 7 per cent to Rs 20,252 crore in Q1.
(Read:L&T Order Inflow Hits 9-Quarter Low, Shares Down)
11:00 a.m.  Coal India shares fell as much as 2 per cent to intraday low of Rs 432 on Monday after the miner failed to achieve its July production target. Coal India in a release to exchanges said its coal production for the month of July grew 5.5 per cent annually to 34.83 million tonnes (MT) – its lowest production growth in last 6 months. Coal India had a production target of 36.04 MT for the month of July.
(Read:Coal India Falls 2% on Production Target Miss)
10:30 a.m. Maruti Suzuki shares gained over 2 per cent to intraday high of Rs 4,380 on Monday after the carmaker reported strong sales for the month of July. Maruti Suzuki, India's largest car maker, reported 20.1 per cent annual growth in its July sales at 1,21,712 units, supported by strong domestic sales.
(Read:Maruti Suzuki Gains 2% on Strong July Sales)
10:00 a.m. Suzlon Energy shares surged over 12 per cent to an intraday high of Rs 24.55 on Monday after India's biggest wind turbine manufacturer reported a profit in the first quarter.
Suzlon Energy reported a net profit of Rs 1,047 crore for the April-June quarter, against a net loss of Rs 751 crore in the corresponding quarter of last fiscal. Suzlon's Q1 profit were boosted by exceptional gain of Rs 1,314 crore, which the company booked as currency translation gains on account of disposal of its subsidiary Senvion SE to Centerbridge Partner LP.
(Read:Suzlon Energy Surges 12% on Q1 Earnings)
9:50 a.m. Markets edge higher with Sensex up 78 points to 28,192. Nifty gains 20 points to 8,552.
9:40 a.m. Stock update: HCL Tech down 4 per cent at Rs 956 on Q4 earnings. EBIT margins during the June quarter fell to20.1 per cent as compared to 21.3 per cent sequentially. TS Harihar, Chief Executive and Founder of HRBV Client Solutions Private, has a positive stance on HCL Tech but says the stock looks bit expensive at currency levels. It is a good buy around Rs 900 levels, he added.
(Read: HCL Tech Shares Drop on Q4 Margin Dip)
9:30 a.m. PSU banks in limelight. SBI, Bank of Baroda and PNB up between 2-3 per cent. CNX PSU bank index up 2.3 per cent. On Friday, the PSU bank index surged 4.5 per cent as the government unveiled a Rs 70,000 crore capital-infusion plan.
9: 25 a.m. August could belong to PSU banks, says TS Harihar, Chief Executive and Founder of HRBV Client Solutions Private. Government's recapitalization plan big positive for PSU banks, he adds.
(Read:Jaitley Plans to Give Rs 70,000 Cr Lifeline to Ailing State Banks)
9:18 a.m. Markets open lower: Sensex down 33 points, HCL Tech falls 4% on Q4 earnings
9:01 a.m. Rupee opens higher at 64.01 per dollar against Friday's close of 64.13.
8:42 a.m. HCL Tech announces Q4 earnings. Net profit at Rs 1,783 crore on revenues of Rs 9,777 crore. Dollar revenue at $1,538 million, up 3.2 per cent quarter-on-quarter. Revenue growth in constant currency at 2.9 per cent quarter-on-quarter.
8:40 a.m. Auto stocks will also come under focus with July sales numbers coming in over the weekend.
8:30 a.m. HCL Tech and Hero MotoCorp will announce their quarterly earnings today.
8:25 a.m. Engineering and construction major L&T will remain in focus. It has announced quarterly earnings after market hours on Friday. L&T reported a 37 per cent slide in first-quarter profit. Order inflow at Rs 26,400 crore (down 21 per cent) was the weakest in the last 9 quarters.
The Mumbai-based company, which is viewed as a bellwether for the Indian economy, said in a statement that an improved fiscal deficit and lower interest rates should eventually support business, but that the investment climate remained subdued because of "global uncertainties and unhurried pace of reforms in India."
8:20 a.m. BSE Sensex and Nifty may see a flat opening with SGX CNX Nifty trading flat.
8:17 a.m. Asian stocks were mostly lower on Monday, with weak China manufacturing data weighing on the sentiment. Japan's Nikkei was down 0.50 per cent while China's Shanghai Shenzen and Shanghai Composite were down nearly 1 per cent.
8:15 a.m. China's factory activity shrank more than initially estimated in July, contracting by the most in two years as new orders fell and dashing hopes that the world's second-largest economy may be steadying, a private survey showed on Monday. The final, private Caixin/Markit China Manufacturing Purchasing Managers' Index (PMI) dropped to 47.8 in July, the lowest since November 2011, from 49.4 in June.
[SOURCE:-NDTV Profit]